Advanced Diploma in Business Support Systems Strategies
Master the art of forming decision support strategies to get ahead in business with this free online management course.
Publisher:

NPTEL
This free online course explains how to use decision support strategies (DSS) to define long-term aspirations that meet a company's goals. We demonstrate how a dependable strategic plan can combine with effective DSS to drive business success. This course takes you through the techniques used by various organizations to develop strategic plans that use data to identify strengths and weaknesses and turn challenges into opportunities.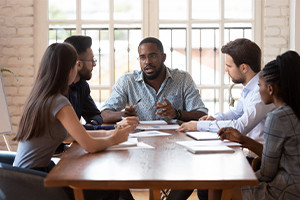 Duration

15-20 Hours

Accreditation

CPD
Description
This diploma course covers various available decision support systems that provide managers with the information they need to make smart business decisions. Poor support structures can limit your growth and capacity to adapt to changing customer needs and industry trends. Technology can be manipulated and costly to modernize so you must design support systems that can evolve to remain adaptable. A cogent business strategy is essential for any company to grow and stay competitor-oriented. This means seeking the best competitive process: bypass your rivals' strengths, look for vulnerable points in their positions and launch marketing initiatives against those weak points. This method may seem harsh but you have to ensure that customers see you as the best fit to stay ahead of the pack.
We then establish how different departments use their DSS to strategically gain a competitive marketplace edge. From marketing to the warehouse to the operations manager, all departments have to be focussed on collective success. This course demonstrates that even deciding on a supplier has to be a long-term decision that can cost the company if not taken seriously. Making choices can be challenging because of high stakes and managers typically employ support systems that provide feedback and guidance. These systems provide data and comparisons and allow for wiser decisions. Every business environment, from start-ups to industry giants, requires a solid corporate strategy to consistently meet its goals.
Why are some businesses more successful than others? Why do some expensive marketing campaigns fail? Business environments have become so complex that attempts to attract customers, compete successfully and strengthen performance have to evolve and be guided by information. Companies like Apple and Samsung are known worldwide, dominating many of their former rivals. That competitive edge is fuelled largely by their smart marketing strategy and flexibility as they adapt to their customers' needs faster than anyone else. We examine the methods behind their success as even a great business strategy can fail if executed poorly. Whether you want to grow your own business or move upwards in a large organization, this course helps you to use data to make better decisions as it teaches managers to draw on support system strategies to get ahead and stay there.
Start Course Now