Diploma in Business Support Systems Strategies
Understand what is meant by strategizing and what the process involves in this free online course.
Publisher:

NPTEL
Business Support System Strategies (DSS) will allow you to understand why strategic aspirations are the most important goals for a company. This free online course will explain how a dependable strategic plan, along with the help of DSS, can take a company from a startup to a well-established entity in little to no time. Organisations plan and develop strategic plans in various ways, and this course covers some of these techniques.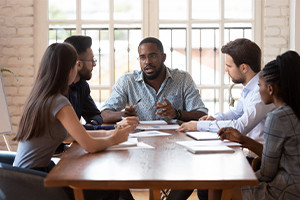 Duration

15-20 Hours

Accreditation

CPD
Description
Diploma in Business Support Systems Strategies is an introductory course on the different available systems and can provide a support structure for managers. Support structures that form the foundation of your company can limit your growth and your capacity to change with customer needs and industry trends. Technology, although easily manipulated, may be costly to modernise. To remain adaptable, you must design support systems that can evolve as needed. A business strategy is essential for any company attempting to grow its business strategically. What exactly is a business strategy? To own a thriving business nowadays, your company must become competitor-oriented. You must seek the best competitive process – bypass your rivals' strengths, look for vulnerable points in their positions, and launch marketing initiatives against those weak points. This method may seem harsh to some, but you have to ensure that customers see you as the best fit and not your competitor in business.
Next, you will learn how different departments within the business use their DSS to strategise and gain a competitive edge in the marketplace. From marketing to the warehouse to the operations manager, all have to be on point. This course will show you that even deciding on a supplier has to be a strategic decision. If not taken seriously, it can be very costly to the company. Even though making decisions is sometimes challenging because there is a lot to lose, management typically uses DSS to assist. Whilst these systems cannot make the decisions, the comparative options presented to the user do lessen the burden on the user and allow for a better and unbiased decision to be made. In the business environment, from start-ups to industry leaders, you will be taught that exhibiting a solid corporate strategy is imperative to meet your company's goals consistently.
Why are some businesses successful and others are not? Why, even with extensive campaigns and marketing, are some companies unable to surpass others? Business environments have become so diverse that a business's moves and actions to attract customers, compete successfully, and strengthen performance have to evolve. Companies like Apple and Samsung are known worldwide. Some time ago, other large brands were top-rated. Their features were and are as good as Apple and Samsung. However, you seldom hear about them today. Why do Apple and Samsung have such a substantial competitive edge? The answer is pretty simple, their marketing strategy and their flexibility and adaptability to their customer's needs were prompt. A business strategy can be great, but if not executed quickly enough to keep customers happy, they will move on. Are you a business owner or operations manager? Find out how business support system strategies have developed and how to model your approach to today's best-performing organisations.
Start this course now!
Start Course Now