Diploma in Beginner English
Master basic English with this free online beginner English course that lays the foundations for your success.
Publisher:

Advance Learning
Learning the English language has never been easier. This diploma course in beginner English will help you gain confidence in English to converse in any situation. We have designed each module to guide you through the pronunciation of words and grammar rules at a beginner level. Each section builds your vocabulary so that you will feel confident at work or in social situations. If you want a solid foundation in English, this course is for you!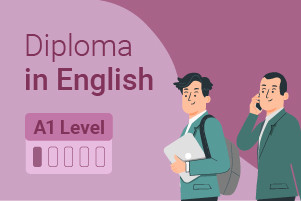 Duration

10-15 Hours

Accreditation

CPD
Description
Learning English can give you many opportunities for employment and education. Those who take the trouble to learn this language increase their chances of getting a job and communicating effectively with people they don't know. If you want to immerse yourself in this exciting and diverse culture, taking this diploma course in beginner English will give you a solid start. There are numerous videos and audios so you can hear the language being spoken by native speakers and practise your own English by answering and asking questions within these video sections. We begin by introducing you to the pronunciation of the alphabet and identifying vowels and consonants. Each module challenges your pronunciation, grammar and vocabulary skills. You will study pronouns, learn the verb 'to be' to use in the affirmative and negative forms and ask questions. We discuss singular and plural nouns. You will learn how to pronounce numbers and start talking about yourself using personal information. This will encourage you to ask questions confidently and enable you to use transportation around town.
The following section looks at your family members and how you can describe them using suitable adjectives. You will move on to comprehending the concept of time. We will develop your numbers vocabulary and encourage you to use exciting adjectives to describe events. We then explore the pronunciation of singular and plural nouns before delving into learning the grammar and terminology relating to chores and activities. Correct word stress in a sentence is of utmost importance to ensure your tone is proper and the listener understands what you have said. Be ready to describe objects confidently. We explore how to pronounce the letter 's' when linking words and teach you the 'preposition of place' and the word 'there' to locate objects or people. The vocabulary relating to household objects and food makes going shopping stress-free.
The final few modules delve into the different seasons around the globe and the words you'll need to discuss the correct clothing to wear at various times. You will learn how to use the present continuous form of the verb and modal verbs. Before discussing object pronouns, we examine the use of gerunds and when to use them. We identify the correct words to use when talking about the past, past tense endings, past time questions and phrases when chatting to people. We finally conclude the course by teaching contractions and verbs in the present simple and present continuous before polishing your skills so you can discuss future plans and events with those around you. This course is ideal if you are starting from scratch. The well-presented modules will give you a solid grounding in the fundamentals of the English language. Don't delay and enrol today to expand your knowledge of one of the world's universal languages.
Start Course Now