Complete Guide to Writing Marketing Plans
This free online course will teach you more about writing an effective marketing plan to grow your business.
Publisher:

Stone River eLearning
The Complete Guide to Writing Marketing Plans is a free online course offering a strategic roadmap to organize, execute, and track businesses. You will learn how to write an effective marketing plan, create the foundation for growth and success, and understand how to identify your Strengths, Weaknesses, Opportunities, and Threats (SWOT). The course will better equip you to organize ideas and create a good business plan to grow your business.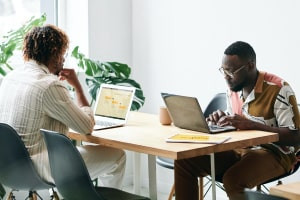 Duration

3-4 Hours

Accreditation

CPD
Description
Every business owner expects to reach and convert their target market. And many of these business owners start their ventures with marketing as an afterthought, only to quickly discover that marketing is one of the most critical parts of a business plan. The Complete Guide to Writing Marketing Plans is a free online course that teaches you how to create and plan effective marketing campaigns. You will better understand the importance of a marketing campaign and learn how to write each section. This includes learning how to write details about the company or business, its mission statement and what it has to offer. You will learn how to plan your business to stay organized and get more customers. You will also get a better idea of first-time mistakes that entrepreneurs/marketers can avoid.
The course evaluates how to create a branding strategy to suit your business type. You will learn how to write a competitive analysis and how to organize your ideas. This will enable you to create a good plan of action for promoting your business before starting your company so that you can plan ahead. This course will enable you to manage your time better to research which strategies will work for your business to get clients. The types of companies that will benefit from this course include local businesses like flower shops, restaurants and phone repairs. If you're planning or running an affiliate business, you'll also benefit by learning how to write a marketing plan for a blog, new products, or websites.
Finally, the course will introduce you to different avenues of marketing. Stop wasting time randomly posting on Facebook, Twitter, and stop struggling with business cards or passing out flyers. Instead, learn how to build a foundation for growth and success. The course covers various elements, from basic strategy to grow your YouTube channels to selling on e-commerce platforms. You'll also benefit from this course if you're operating in the Business to Business (B2B) sector. This course will be of immense benefit to marketing professionals, Entrepreneurs, Small business owners struggling with marketing, and people planning a business. Start your learning journey today.
Start Course Now