Business Administration - Communication and Planning
Discover the key business administrative duties, like organizing meeting & business travel with this free online course.
Publisher:

NuYew
This free online course, business administration - communication and planning, will teach you some important administrative duties, and how to use the skills you learn here to deliver a quality service. This free course will also teach you effective communication skills in a business, organizing meetings and planning business travel. So, why wait? Start this course today and learn all the skills needed to work in a business environment.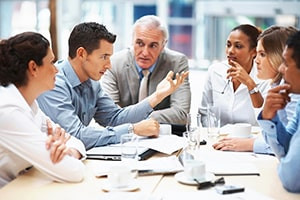 Duration

4-5 Hours

Accreditation

CPD
Description
This free online course, business administration - communication and planning, will briefly cover the role of a business administrator and the duties they may be asked to carry out. We will see how good communication skills impact the everyday working environment of a business. The right equipment and the knowledge of how to use them effectively are also important aspects of the workplace. Employers consistently rank good communication skills at the top of the list for potential employees. This course will teach you these skills and how to use them so that you can impress at your next job interview. It will also explore communication skills like planning and the importance of non-verbal and verbal communication. Phone etiquette is essential to a thriving and professional business and this course will cover exactly what is expected of the person in charge of fielding calls in an office. Everyone communicates with someone daily whether that be with a friend or family or potentially a customer or business. There is a huge difference in how a person approaches the different types of communication they face and this topic will help you understand how to say something effectively and what your body language says about you to others.
Within most companies, there are many different offices and it can sometimes be hard to communicate with each other and know exactly what each person is doing on what day. We will discuss how the diary system makes it much easier to find out the schedules and appointments of all the employees in the office. The recorder of a meeting's minutes has a professional responsibility to be meticulous and careful that the right actions and accountabilities are recorded. This course will help those involved in minute-taking to follow an accurate and timely process. We will discuss the role of the chairperson and other formal responsibilities in the meeting. You will also learn how to take minutes and what to do after the meeting. Also, the learner will explore business travel as well as how to obtain the necessary information to be able to organize travel, whilst keeping to a budget.
Next in this course, we will discuss why the role of booking travel and accommodation falls to a business administrator. You will understand the arrangements and actions required for planning and organizing meetings. The meeting content will address task needs while the meeting process attends to social needs. We will discuss how to prepare for meetings and how to follow up after a meeting. Capturing and reporting key outcomes of the meeting is critical for follow-up activities and this course will help you learn follow-up actions you can apply to your own job. You will understand why all meeting documents, including the agenda, minutes and supporting documents, should be kept together and archived. Tending to both the content and process aspects of your meetings will go a long way toward making them more effective and productive. This course could be useful for students trying to obtain their first professional role in business or self-employed people who need help in arranging their business. So, why wait? Start this course today.
Start Course Now