Bing Ads Advanced Features and the Ads Editor - Revised
Learn how to improve search engine optimisation (SEO) using Bing Ads' advanced features and the Ads Editor tool.
Publisher:

Channel 9
This free online Bing Ads course will teach you about the advanced features in Bing Ads and the Bings Ads Editor tool. You will learn about the different types of ad extensions that you can use, and how to make effective use of dynamic text. It will also teach you about the importance of accurate ad content, how and why to use campaign exclusions, how to effectively optimise your ads on Bing Ads, and much more.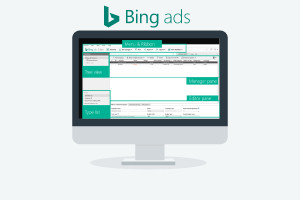 Duration

Hours

Accreditation

CPD
Description
This course begins with a discussion of ad extensions, which allow you to add relevant information to your ads, without taking away from the minimal character limit that you have. You will look into dynamic text, which allows you to create one ad that will be customised based on the user's search term and the keywords within your ad groups. You will also study content ads and campaign exclusions.
You will then delve into the five categories of Bing Ads device reports, including performance, change history, targeting, campaign analytics, and billing and budgets. You will learn how to optimize a campaign and study the Bing Ads Editor, a powerful tool for building, editing, and optimising Bing Ads campaigns in bulk. You will also look into Bing Ads Partner Support, the Bing Ads Intelligence tool, and more.
The Bing Ads network has different adaptable elements that could improve your ad's efficiency. On the completion of this course, you will be able to analyse report information from Bing to improve your ad's CTR (clickthrough rate) and conversions, and use the Bing Ads Editor to efficiently manage your campaigns. Sign up for this course and gain a better insight into the advanced settings available on the Bing Ads network today.
Start Course Now