Webpreneur 101: Creating Wealth Online
Learn how to succeed online by accelerating your earnings and reaching your financial goals, in this free online course.
Publisher:

Amir Anzur
A webpreneur is an entrepreneur whose business operations are limited to the web. This free online course will introduce you to the fundamental principles of creating wealth through the internet. Study habits of highly successful people and the significance of creating a mind map. This course is suitable for both students and professionals who would like to earn extra bucks online. Learn everything you need to start earning online. Enrol today!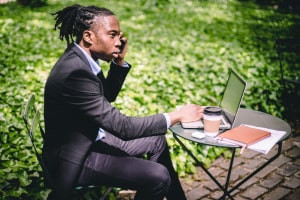 Duration

5-6 Hours

Accreditation

CPD
Description
An entrepreneur is a person who sets up a business, taking on financial risks to make a profit. A webpreneur is an entrepreneur whose business operations are limited to the web. It is important to understand that businesses today cannot keep the web out of their marketing. This free online course will teach you the benefits of developing a positive mindset, several online business ideas, and how to use the internet to give yourself the best chance of becoming successful online. Discover the major types of people in the entrepreneurship world such as dabblers, achievers, and masters. Learn the habits of highly successful people that would potentially help you to become successful as well. Uncover tools such as mind mapping for understanding yourself better and clarify your own goals as well as the long-term direction of your life. Familiarize yourself with the concept of hedgehog to help filter your ideas and implement strategies of successful companies. Gain an understanding of personality types; how to work with other people, and pick the right friends. You will see examples of people such as Ryan Higa who makes a hundred thousand dollars a year through making Youtube videos and Darren Rowse who makes close to a million dollars a year through blogging.
Learn how to use tools such as Facebook, Twitter, LinkedIn, and Youtube to brand yourself, get yourself a better job, potential customers, or traffic for your websites. How to buy a domain name and create a website without any technical expertise will be treated in this section of the course. Become skilled in positioning yourself as an expert and an authority in your niche, and learn how to become an author with your bookselling on Amazon.com to create wealth. This course will teach you Robert Cialdini's six laws of influence such as reciprocity, social proof, liking, and others. These laws of influence will enable you to increase your sales, gain people's trust, and stay consistent with your public image. Recognize how building trust and branding yourself is very important in establishing an online business. You will see examples of brands and people's perception of them. Did you know that countries are brands? Find out how your country of origin may have an impact on your sales. Also, learn how to set up an eCommerce website without any technical knowledge, and accept payments on your eCommerce website.
With the advent of online technologies, the opportunities for enterprising on the web have increased. A product can be manufactured from China or any other country, get posted online and is delivered to a warehouse in the United States. Amazon sells over USD 230 billion every year online. This course will teach you how to open up businesses in the UK, United States, or Dubai without actually having their nationality or having to visit the countries. It will help you to understand how you can participate in and dominate the online economy. This course is suitable for anyone including beginners with no experience, students, or working professionals who would love to supplement their income by making money online. Organizations that are interested in creating wealth online can also benefit. It has helped many people start off without knowing anything about the internet to become professionals. Entrepreneurs with existing businesses have discovered tips to increase sales, and students have learnt to use social media to create a better profile for themselves. Start learning today and accelerate your income!
Start Course Now