The Ten Laws for Personal Success
Learn how to succeed in your personal life using ten self-improvement laws with this free online course.
Publisher:

TJ Walker
Have you ever wondered "what is personal success to me?" Identifying this is the first step to building your personal brand and finding out what is important to you. You will be introduced to the 10 self-improvement laws that will lead to success. By learning how to manage the food and entertainment you consume, the clutter in your house and the daily habits that dictate your actions your life will begin to feel more fulfilled and successful.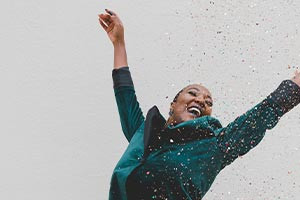 Duration

5-6 Hours

Accreditation

CPD
Description
What does personal success look like to you in your life? By learning how to manage your life effectively, you can achieve that success. In this course, you will learn about ten self-improvement laws developed by personal development expert TJ Walker. One tool that you will study is the Selfie Speak Programming (SSP) model. Created by Walker, this model reinforces human behaviour and daily habits to help you manage your time and achieve your goals. You will learn TJ's method of reinforcing positive daily habits using your cell phone's memo app. Are you familiar with audio production and creating your own clips? This course takes you through tips and tricks to help you create audio files for your ears only. You will also learn to define what personal success means to you. The lessons you study throughout this course will then have a more impactful effect on your life.
You will take a deep dive into everything that you consume throughout the day, from entertainment and news to food. You will cover how you should manage your intake of TV and social media news, while also covering how to spend your time once you cut out the bad content. You will learn how the food industry is making it harder to live a healthy life, especially when you dine in a restaurant. This includes shopping for one ingredient foods, avoiding advertisements for junk food and drinking water. You will also study other forms of personal health. This includes the ways to get a good night's rest, the best methods of exercise for boosting creativity and the importance of meditation and yoga. Are you comfortable with inviting guests over to your home? You will learn how you can organise your house and mind to avoid unnecessary clutter.
As you continue your studies, you will be introduced to the basics of forming lasting relationships with your friends and family. This will cover how your cellphone can cause a rift in your social life. You will also learn about wealth and the difference between being rich and being successful. More importantly, methods of managing your money will be introduced to you. Avoiding retirement and cementing your legacy will be discussed too. This course finishes with a comprehensive look into creativity and different methods that you can use on a daily basis to boost the quality of your ideas. Throughout this course, you will form a solid understanding of how to achieve personal success by taking a hard look at your physical and mental health and the outside factors that can negatively affect you. Start this course today to learn how you can use these self-improvement laws for your own personal success.
Start Course Now