Podcasting Essentials
Learn how to plan your podcast, record high quality audio, edit and publish the episode with this free online course.
Publisher:

One Education
Podcasts are audio broadcasts found on the internet that can be delivered automatically to your computer or cellphone. This course examines the prerequisites to start podcasting and explains how to select appropriate topics before delving into the recording process itself. We provide everything you need to know, from your choice of a microphone to what type of advertizing may boost revenue. Sign up to become your own broadcaster.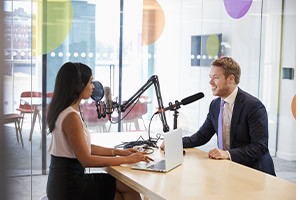 Duration

1.5-3 Hours

Accreditation

CPD
Description
A podcast informs its audience engagingly and conversationally and lets the listener multitask by playing it in the background while doing other activities. This genre of publishing platforms has become increasingly popular in the last few years. Would you like to start your own podcast? This course covers planning, recording, editing and promoting your work. Before breaking down the podcasting process into easy steps, we lay out what you need to start producing and establish the benefits of doing so. We go through various terms and definitions and explain how to select the most suitable topics before formatting and structuring episodes.
The course then delves into budgeting to help you find the most cost-effective podcasting methods. We also provide some 'secrets' on writing scripts while showing you how to set up and monitor crucial parameters before a recording session. We examine different microphone types to let you select the right one to suit your needs and produce the best audio quality. The course demonstrates how to include sound effects in an episode to make it more entertaining. It will also teach you some audio editing as you learn to fix defects with editing software like Audacity. We explain how to generate useful metadata to let potential listeners know what to expect.
A podcast provides you with an effective way to communicate with thousands of people while earning revenue from subscriptions or marketing. We teach you how to create 'show notes' to drive traffic to your podcast on various platforms like Spotify and Podbean. We explore various ways to promote your work to establish a more extensive and more diverse listenership. This course can help you start and monetize your podcast to let you find your voice and express yourself to a widening audience. Whether you're interested in politics, sports or culture, sign up to make yourself heard.
Start Course Now