Modern Human Resource Management - Appraisal and Performance
Gain an in-depth understanding of employee appraisal and performance evaluation with this free human resources course.
Publisher:

Saylor Academy
This free online Modern Human Resource Management course focuses on appraisal and performance. Performance issues in the workplace are common. With this course, you will learn how to conduct professional performance appraisals and evaluation activities to deal with tardiness, spending too much time at work handling personal matters, mishandling of proprietary information, drug and alcohol problems, non-performance, theft, and more.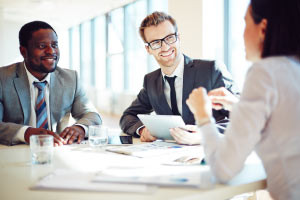 Duration

1.5-3 Hours

Accreditation

CPD
Description
This course will first discuss the management of employee performance. You will learn that having a set of policies that deal with performance issues in the workplace can eliminate wrongful termination legal actions. You will learn about drug testing, whistleblowing, collective bargaining, and interest-based bargaining as well as examine unions and their functions. The course will discuss then the Worker Adjustment and Retraining Notification Act (WARN) and the Wagner Act.

Next, you will study employee assessment procedures and performance evaluation systems. The first step in designing a performance appraisal process is to determine how often the appraisals will be given. You will learn that when developing performance appraisal criteria, it is important to remember that the criteria should be job specific and industry-specific because general performance criteria are not effective. The course will then discuss a number of different rating methods, and look into workplace violence and bullying.

There are certain best practices that must be considered when developing, implementing, and managing a performance appraisal system. It is also important that the appraisal system is tied to the organization's goals and the individual employee's job description. This Modern Human Resource Management - Appraisal and Performance online course covers the most important aspects of human resource management so that you can help ensure the continued success of your organization. So check out the course, and start enhancing your HR management skills today.
Start Course Now