Milk and Microbial Growth
Learn about the constituents of milk and how various techniques are used in preventing microbial growth in diary foods.
Publisher:

NPTEL
This free online course on constituents of milk and microbial growth explains in detail whey proteins and their structure. You will learn about the different types of carbohydrates present in milk. You will also be able to differentiate between the major and minor constituents of milk. By the end of this course, you will become familiar with factors that combine to determine which microbes grow in a particular food and at what rate.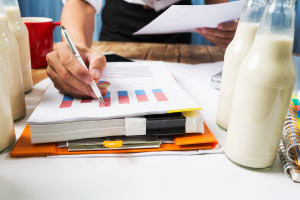 Duration

3-4 Hours

Accreditation

CPD
Description
This course begins by explaining whey proteins and how they have well developed secondary, tertiary and quaternary structures. You will learn about how antibodies (proteins) manufactured by the body help to fight against foreign substances known as antigens.You will also learn about a special type of antibody known as immunoglobulin. Immunoglobulin are the most abundant type of antibodies found in all body fluids and they protect against bacterial and viral infection.
This course explains in detail the different types of carbohydrates available in milk and their composition. You will learn about dry milk and how it contains a very high percentage of lactose. You will also learn about the low composition of iron in milk and how iron present in milk is not sufficient for human needs. This course does a great job in explaining the relationship between the nutrients components of milk and how additives are used in preserving the nutritional value of milk.
At the end of this course, you will be equipped with great knowledge of how some foods contain natural antimicrobial chemicals that inhibit growth of microorganisms responsible for spoilage. You will also be better informed about how the rate of microbial growth in milk is greatly influenced by storage temperature and the nutrients in food that determine which organisms can grow in the food.
Start Course Now