Managing Customer Relationships in B2C and B2B Markets
Learn how 'B2C' and 'B2B' businesses can improve their customer relations and boost profits in this free online course.
Publisher:

NPTEL
Successful businesses require a strong relationship with their customers as they build the kind of brand loyalty that increases sales. This course shows you how companies can create such a bond with their customers in the business-to-consumer (B2C) and business-to-business (B2B) markets. We provide strategies for managing customer complaints and addressing service failures. This course can help small business owners or aspiring managers.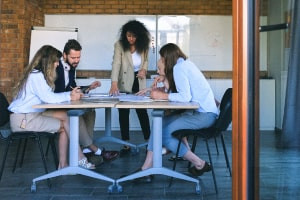 Duration

4-5 Hours

Accreditation

CPD
Description
A strong relationship with customers is crucial to the success of any business. These relationships don't just happen in a flash but require specific strategies to build over time to ensure successful long-term commitments. This course explains how businesses can develop such productive connections with their customers. We begin by breaking down the influence of customer equity in customer-relationship management (CRM). We show you why businesses should spend money on customer acquisition and retention and how to do so while we unpack the essence of customer loyalty in the business-to-consumer (B2C) market. We then examine the influence of customer-perceived value and satisfaction in B2C markets and use a case study to demonstrate the critical role of CRM in the service market of B2C. Lost customers cost a business and this course takes you through strategies for managing their defection and explains how service companies in B2C markets can recover from service failures.
We then introduce you to the working operation of aggregator businesses. Did you know that companies like Uber aren't actual service providers but aggregator firms that connect service providers to customers and can sometimes be held responsible for service failures instead of the actual service providers. This course lays out the different scenarios in which service providers or aggregator firms must address service failures. We go on to describe how service providers' failures influence customer satisfaction with aggregator firms. We take you through the unique characteristics of business markets and the stages of the business-to-business (B2B) buying process. The course discusses how CRM impacts the B2B business market and provides ways to manage customer loyalty. We investigate the role of brand loyalty and image in B2B markets. Lastly, we delve into 'construal level' theory (CLT) and conduct a research study to demonstrate its impact on B2B markets.
Customers are the bedrock of any successful business so relationships with them must be nurtured strategically to remain strong and productive. This course teaches you how businesses can create and maintain that much-needed bond with their customers. All successful brands and companies take customer relationships seriously. We examine how firms like Apple successfully used smart customer relationship management strategies to help you develop your own to get ahead. This course is aimed at small business owners or anyone looking to move into management as they become expert in improving customer relations.
Start Course Now