Google Analytics for Bloggers
Master the basics of Google Analytics to improve the performance of your digital services with this free online course.
Publisher:

Stone River eLearning
Data is crucial to the success of content writing and digital marketing. It helps provide valuable insights into what users want and how to meet their demands. When set up correctly, Google Analytics (GA) can give you very beneficial insights. This free online course will show you how to set up Google Analytics for your site or digital service and use its key features to perform necessary content optimization to boost your website traffic.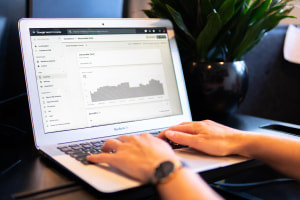 Duration

1.5-3 Hours

Accreditation

CPD
Description
Whether you are a blogger or digital marketer, users' data can help you understand your target market and guide you to making actionable decisions that drive improvement in your service delivery. Imagine you have a digital platform, such as a blog, where you post helpful content for users to learn. If a web analytics tool could give you data insights into how users find your blog content helpful, wouldn't that drive ideas of enhancing your content writing strategy? One of the most powerful and popular web analytics tools is Google Analytics. This course will show you how to use the basic features of GA to improve your site or digital service. First, you will learn how Google Analytics gathers users' data and issues reports. You will also study the attributes of good metrics, key terminologies and be introduced to the five main types of analytics reports before grappling with a framework for social media marketing.
Next, the material demonstrates how to create and share a customized GA dashboard. For Google Analytics to track users' behaviour on your blog, you must install a Google tracking code on your WordPress site - we'll give you the easy steps to do so. You will delve into the various types of reports that exist and see how they provide unique insights into site performance. The course also describes how to segment reports and set up campaigns. You will learn how third-party tools and extensions such as Table Booster and Da Vinci can help generate additional insights. Then study the steps to set up goals and custom alerts on Google Analytics. Lastly, you will learn about how to track your YouTube channels and the steps to partnering with Google itself as a GA expert.
This free course on Google Analytics isn't only useful to bloggers but also to digital marketers and business owners who aim for a deeper understanding of their online customers to improve their digital product delivery. By mastering the key features of the tool, you will identify opportunities to drive more traffic, enquiries and conversions to your business. If you want to catch up with your competitors and even surpass them, understanding the fundamentals of Google Analytics is the first step to make that goal attainable. GA can help you recognize your users' behaviour and find the keywords that can help drive even more traffic to your site.
Start Course Now