Floral Arrangements
Learn the essential techniques for creating spectacular floral designs with this free online floral arrangements course.
Publisher:

CourseFlix
A florist's job and joy are to make floral arrangements. Whether you are preparing them for weddings, funerals or other events, it is important to be aware of different flower species, meaning and symbolism. These small but important details can make you stand out as an efficient and caring florist. In this course, you will learn helpful methods and techniques to make floral arrangements in line with traditions and proper etiquette.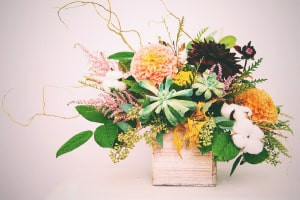 Duration

1.5-3 Hours

Accreditation

CPD
Description
The relationship a florist has with flowers is truly one of a kind. Each flower has its own natural characteristics and individual personality. Some types of flowers get along well together, while others do not. Did you know some flowers can flourish and grow to music? A variety of them even have their own music they prefer. It is a florist's job and many times a joy to make floral arrangements. There are many tricks and techniques that are involved in creating them. An excellent way to start learning the art of flower arrangement is to select a single flower in season or a favourite and let it guide you. In this course, you will learn helpful techniques and procedures that will help you carefully consider what the world about you has to offer, such as containers for the arrangement, flower and plant materials. Once you have chosen, it will be important to remember how and where the display will be used.
As you progress with your floristry skills and techniques, you may start to feel ready to tackle a more demanding and specialised field of floristry. One of these types of areas is a wedding and bridal floristry. Before you begin to consider this, you need to have several years' experience to be able to establish yourself as a wedding florist. The meanings of flowers are often an inspirational source for many romantic couples, or they might have special sentimental meaning to their relationship. A caring and efficient florist remembers small but important details such as these. If you do, you will easily stand apart from any others in the industry. Equally, understanding the different flower species, their meaning and symbolism can add a spiritual or emotional dimension to their choice of floral arrangements. Throughout this free course, you will learn specific methods that can help you to advertise and promote your business.
While many think about happy and exciting events associated with flowers, experienced florists are aware of various fields. Perhaps one of the most sorrowful areas of floristry is preparing floral arrangements for funeral events. During this time, the loss of a loved one is usually difficult for grieving relatives. They can be experiencing mixed emotions going from grief and sadness to confusion and anger. Flowers to express sympathy have been considered a traditional means of expressing condolences in times of mourning. However, it may be confusing to know what type of flowers or arrangement to send. By studying this course, you will learn the proper funeral arrangements in line with respectful funeral traditions and etiquette. Anyone with an interest in the floristry industry will gain a lot from this course. Studying this course will help florists in their first job and anyone thinking about entering into the floristry industry. It provides specific techniques and methods behind making floral arrangements, choosing appropriate flowers for different events, and understanding flower meanings. First-time florists, potential florists, students, and more can benefit from learning about floral arrangements.
Start Course Now