Floral Arrangements
Master the techniques used to create spectacular designs with flowers in this free online floral arrangement course.
Publisher:

CourseFlix
This free online course teaches you how to arrange flowers beautifully, either professionally or for fun. Whether you are preparing them for weddings, funerals or other events, it is important to know the meaning and symbolism of different flowers. These small but crucial details can make you stand out as an efficient and caring florist. We provide helpful tips and tricks that keep floral arrangements in line with traditions and proper etiquette.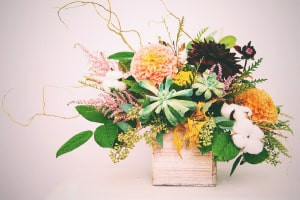 Duration

1.5-3 Hours

Accreditation

CPD
Description
Florists have a special relationship with flowers as each bloom has its own natural characteristics and personality. Some types of flowers get along well together while others do not. Did you know some flowers can flourish and grow to music? Some of them even have their own preferred music. An excellent way to start learning the art of flower arrangement is to select a single flower in season or a favourite and let it guide you. We provide helpful tricks and procedures that will help you to carefully choose what the world about you has to offer, such as containers, floral and plant materials. Once you have made such decisions, it will be important to remember how and where the result will be displayed.
As you hone your skills, you might feel ready to tackle a more demanding and specialized field of floristry, like arranging flowers for a wedding. The meanings of flowers are often inspirational for romantic couples and some blossoms might have special sentimental meanings. Paying attention to such fine but important details can help you stand apart from the competition. Equally, understanding the different flower species, their meaning and symbolism can add a spiritual or emotional dimension to your floral arrangement. This course also covers specific methods that can help you to advertize and promote your business.
While many think about happy and exciting events associated with flowers, experienced florists know that one of their most sorrowful tasks is preparing arrangements for funerals. The loss of a loved one is usually difficult for grieving relatives who can experience mixed emotions, including confusion and anger. Condolence flowers may cause confusion and we explain how to arrange them in line with respectful funeral traditions and etiquette. Anyone interested in floristry can gain a lot from this course as we provide specific techniques and methods behind making floral arrangements, choosing appropriate flowers for different events and understanding flower meanings. Sign up to learn more, whether you are a budding florist or want to express yourself with nature's beauty.
Start Course Now