Floristry: Identifying Plants and Flowers
Learn the essentials for caring and maintaining plants and flowers with this free online floristry course.
Publisher:

CourseFlix
One of the many rewards about working in floristry is that the flowers you work with are beautiful and varied. As a florist, it is important to consider them as living organisms. They need regular care to eliminate diseases and pests. If left unattended, they are highly perishable. In this course, we will learn methods and techniques to care for and maintain plants properly and help keep your inventory from perishing and maximising your profit.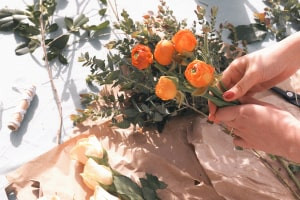 Duration

1.5-3 Hours

Accreditation

CPD
Description
At the majority of events, guests will usually be greeted by a beautiful flower arrangement at the entrance. There might be a small bouquet on their table or a spectacular flower display hanging from above as they continue walking throughout the area. Perhaps seeing it from far away, you may notice a wide variety of bright colours, but if you were to take the time and observe it, you would most likely come to find how the florist skilfully arranged the flowers, creating a harmony between colours. One of the lovely things about working in floristry is that the materials one works with are so beautiful and varied. Skillful florists create striking and breathtaking arrangements using only nature's raw materials and their imagination. You could be using fantastic, enormous heavy tropical flowers or small, soft, pretty spring flowers. There are no limits to what you can create and design in this industry. The type of flowers you choose will depend upon your creativity and the demands of your customers.
As a florist, one of the most important things to remember is to look at flowers as a living organism instead of something that is used to decorate the home. It is a growing and living plant, and they are highly perishable if not cared for properly. They also need regular care and inspection to eliminate diseases and pests. We will begin by studying the anatomy of plants and flowers. If they are left unattended, diseases, pests, and natural decay will eat away at your inventory, causing you to lose profit and potential customers. This course will cover some methods that can help keep your inventory from perishing and maximising your profit. These can help to offer customers fresh flowers that are as radiant as the moment that they were picked. Naturally, these techniques may vary slightly between florists, but most will be using a mix of these basic practices.
Towards the end of the course, we will examine essential flower design basics and styles a florist needs to know. If you were to place flowers in a container without giving much thought to its design, they remain a simple bunch of cut flowers, surely beautiful, but this is not what a floral arrangement really is. Gorgeous floral designs are truly works of art. Rules or principles of art define the beauty of these designs, and so, if you follow these principles of art mentioned in the course, then your work becomes art. Anyone with an interest in the floristry industry will gain a lot from this course. Studying this course will help florists in their first job and anyone thinking about entering into the floristry industry. It provides specific techniques and methods behind keeping flowers healthy, designing spectacular floral designs, and recognising signs that a plant is in trouble. First-time florists, potential florists, students, and more can benefit from learning about Floristry: Identifying Plants and Flowers.
Start Course Now