Facilitation Skills for Businesses
Learn the skills and techniques required to facilitate high-performance meetings with this free online course.
Publisher:

Ross Maynard
Facilitation is fun and empowering, but facilitating a good meeting is a skill that requires a certain kind of personality that you may need to learn to develop. In this free online course, you will explore the principles of good facilitation and discover the skills required to be a good facilitator. You will learn how to grow your self-confidence and inner strength to perform better in conducting team meetings, interviews, and presentations.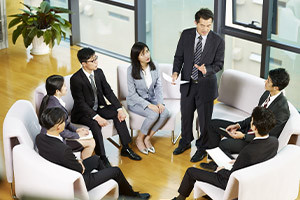 Duration

1.5-3 Hours

Accreditation

CPD
Description
Facilitation is one of the most important skills you can possess in business and it is about helping a group of people with a common interest understand each other's views so that they can reach an agreement and work together efficiently. This free online facilitation training focuses on business facilitation and you will begin by exploring the definition and elements of business facilitation. Then, you will learn about the three aims of a business meeting and the role a facilitator plays in those meetings. Facilitating a good meeting is a skill but it requires a certain personality type and having a set of principles to work with will help an inexperienced facilitator build confidence and expertise - you will study these principles and what is required of a good facilitator. The ten rules that will help any facilitator to deliver a well-structured session will be outlined as groundwork for understanding the exact role a facilitator needs to play which includes building an environment of trust, openness, and creativity which requires cultivating a strong relationship with the team. The instructor will share some characteristics of a good facilitator as well as how in this challenging online environment, you need to tweak your approach with the advent of online meetings. 
A practical exercise and answers on convening a meeting with leaders of a group will then be covered in this facilitator course before discussing the importance of setting and sharing an agenda. The agenda is the first of three critical elements which form the basis of a good meeting - the other two being the discussions and outcome - all of which are comprehensively covered. Noteworthy tips and tricks are discussed and then some specific facilitation techniques such as the brainstorming exercise, bright spots analysis, and perceptual positions which are used to engage the participants in generating ideas, are analyzed.
All good meetings have two things in common: they are to make decisions and agree on the next steps. In this final section of the facilitation skills course, you will learn a two-step method of facilitating a group, (1) strengthening the selected ideas of the meeting, and (2) creating an action plan. You will be given some tips on how to spice-up meetings to keep them fresh and interesting all the time. Sometimes, some sessions go badly and other times brilliantly and you will study how to improve on your facilitating skills to become an excellent facilitator by learning from your own performance and listening to feedback. In your role as a facilitator you need to give feedback to participants and how to go about giving positive and negative feedback to delegates is the concluding part of this group facilitation course. It is a great feeling to have helped others express and explore their ideas and knowing how to get the most out of business sessions can be a great catalyst for change and progress. Enrol in this course and refine your abilities to run any kind of business meeting with any number of people by applying proven methods and processes.
Start Course Now