Essentials of Digital Marketing and Lead Generation
Learn to apply essential digital marketing skills like SEO and WordPress for lead generation to expand your business.
Publisher:

Omkar Nath Nandi
This free online course will provide you with a comprehensive guide to leverage online tools to generate traffic to your business. You will learn how to create a business website and about the importance of online surveys. We will also take you through the mechanics of Search Engine Optimization (SEO) and its benefits to small business owners, with a particular focus on lead generation. Sign up now!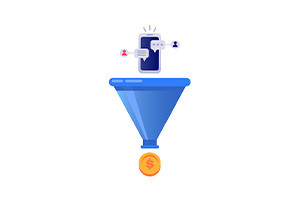 Duration

6-10 Hours

Accreditation

CPD
Description
Managing and growing a small scale business can be an arduous task due to the stiff competition in acquiring market share. This free online course will focus on leveraging digital marketing tools to promote your business. You will learn about online leads that translate to sales, ultimately increasing your market share. We will explain the concept of the buyer persona, including how to acquire it for your business. Get to explore online traffic generation as well as the potential impact of online surveys on your business. We will also delve into business websites designed using WordPress and WooCommerce. You will learn to identify the processes involved in creating a website using popular free hosting and domain. By the end of this course, you should also understand why it's crucial to have a domain name. You will know how to select the domain name for your business. 
Did you know that an IP address helps to determine who visits your business site? This course will explain the importance of an IP address in locating physical machines and devices connected to the internet. You learn to upload and download files using FTP and cPanel. We'll also show you how to secure your online presence using SSL to guarantee the safety of your online customers. Get to learn how to use FileZilla to edit live pages online and connect a domain with a hosting server. We will teach you how to create an online store using WordPress and WooCommerce, and how you how to install themes and plugins in your online store to enhance your website. We will also demonstrate the potential impact of content creation on your business, including how to use the available premium themes to design a professional website.
Finally, we will explore how to plan your online advertising using Google Ads and use Facebook marketing to increase your market share. This course will then explain the step-by-step process of creating an online campaign for your products and services, using the right keywords for your targeted audience. We'll show you how to build a sales funnel on Facebook, as well as how to use Facebook marketing to grow your business. This course will help you differentiate between social media marketing and social media optimization. By completing this course, you will be able to take advantage of the functionality of Search Engine Optimization (SEO) to promote your business online. You will also be able to differentiate between on-page optimization and off-page optimization for your online marketing needs. We have designed this course for business owners, students, researchers, or anyone interested in learning the secrets of online business marketing. Start this course today if you'd like to become a better digital marketer!
Start Course Now