Understanding Google Ads
Gain a comprehensive understanding of digital marketing and advertising using Google Ads in this free online course.
Publisher:

Mark Meyerson
This free online digital marketing course serves as a guide to setting up and managing a successful Google Ads account. You will get to understand key terms and concepts in Google Ads and learn how to work with them in addition to many other practical learning areas such as how to plan and build campaigns and Ad Groups, how to deal with some common troubleshooting issues, and what these look like in practice with real-life agency examples.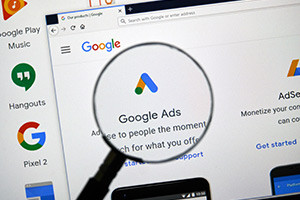 Duration

4-5 Hours

Accreditation

CPD
Description
Google Ads is one of the most successful and popular online advertising platforms. In this free online course, you will be introduced to the platform, learn how to set up your own Google Ads account, become familiar with common key terms and concepts, and study how to handle common troubleshooting issues. At the start of this Google Ads certification, you will learn about the different exciting advertising products offered within the Google Ads platform including its key advantages in comparison to other advertising platforms such as Facebook Ads and offline ads. The concept of an Ad Auction is vital to the way adverts are placed or ranked in Google and you will explore how it works and the ways in which Ad Ranks are calculated before moving on to some of the technicalities of Google Ads. It's important to understand exactly how the platform works and this part of the course deals with Google Ads account structure, campaigns, Ad Groups, targeting levels, metrics, and terminology such as keywords, audiences, bidding, etc.
Now that you have learned how a Google Ads account works, this Google Ads course then discusses how to optimize it for success with proper research, strategy, and planning including the key core components of research and research processes, how to implement your plan by combining research and strategy and putting them into practice. Campaign building is the next big topic of discussion and the content covers campaign planning and projection generation, the various campaign types you get and how to build and structure them. Thereafter, you will be walked through the process of generating new keywords and how to use the recommended keywords for your Ad Groups, which also covers setting up audiences in Google Ads and best practice tips for advert copy and tracking.
A key part of a well-run Google Ads account is regular optimization. There are many aspects to consider to ensure that your account and the related campaigns perform well and some of these are: optimizing search terms, your Quality Score (an important metric in Google Ads), if your ads are persuasive enough and tested extensively, and how optimizes your keywords, demographics and audiences are. All of this is handled in a practical, easy-to-understand way. Towards the end of this online marketing course, you get to understand the different types of automated bidding strategies, reporting, remarketing and dynamic search ads that can ensure a richer, more comprehensive Google Ads account and related output. If you want to study a digital marketing certificate online to use your expertise in the fields of digital marketing and online advertising, or perhaps you are in traditional marketing and want to expand your digital knowledge to enhance your career opportunities, then enrolling in this course will provide the necessary techniques, skills and tools to successfully manage a Google Ads account which always plays a critical part in any digital marketing strategy.
Start Course Now