English Grammar - Modal Verbs (Intermediate level)
Learn how to use modal verbs to describe intentions, ideas and plans in English with this free online grammar course.
Publisher:

Advance Learning
This English course teaches you about modal verbs, which include 'must', 'shall', 'will', 'should', 'would', 'can', 'could', 'may' and 'might'. We use exercises and audio clips to help you learn the grammar and pronunciation of modal verbs as we describe the different forms they take in English sentences. We also show you how to structure sentences correctly using nouns, pronouns, auxiliary verbs and tenses to take your English to the next level.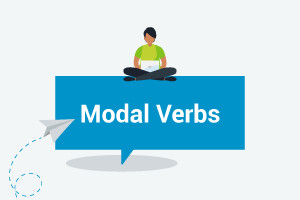 Duration

1.5-3 Hours

Accreditation

CPD
Description
The course begins by explaining how to use the modal verb 'can' to say that you are allowed or able to do something. We show you how to combine 'can' and an infinitive verb and 'be' with 'able to'. We also lay out the past and negative forms of 'can' and 'could'. The course then teaches you how to use specific verbs to discuss the past in English. You will also learn how to use 'may' or 'might' (and their negative forms) to say something is possible or impossible in the future.
We then cover 'instead', 'going to' and the combination of 'may/might' and 'have to'. We explain how you can use 'could' instead of 'may' and 'might' in the positive, but not in the negative. The course shows you how to use 'must', 'must not' and 'don't have to', followed by 'have got to', 'should not', 'ought', 'would', 'would have' and 'will'.
Modal verbs can help you lay out your intentions and plans. This intermediate level English grammar course covers their use through presentations, examples, listening practice with native English speakers and assessment questions. We explore the rules of using modal verbs and their different forms and structures when used with nouns, pronouns, auxiliary verbs and tenses. This course helps you to polish your English skills.
Start Course Now