English Grammar - Passive Speech (Intermediate level)
Learn how to use active and passive forms of English speech with this free online intermediate English grammar course.
Publisher:

Advance Learning
This English language course teaches you how to use active and passive speech. English has complex and important grammar rules and structures that every speaker can master with regular practice. This course lays out the rules governing the use of active and passive voice and shows you how to apply them in everyday conversations. We provide exercises and audio clips to help you learn English, master passive speech and improve your pronunciation.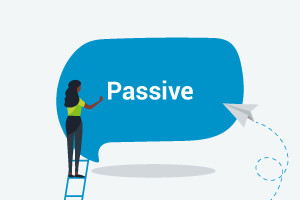 Duration

1.5-3 Hours

Accreditation

CPD
Description
This grammar course introduces you to the active and passive form of English sentences. The active voice identifies its subject immediately but the passive voice reveals the action but often conceals who performs it. We explain how to form passive English sentences using 'by' and compare them to their active tense counterparts. We establish how the choice of active or passive speech changes the form of verbs in the present tense.
The course then covers how to use English verb forms in active and passive sentences in the past tense. We teach you how to use the verb 'get' instead of 'be' to describe actions in passive voice. You will learn that 'to have something done' means you do not do it yourself and that the verb comes after the object in such sentences. We also study how to use the verb 'supposed'.
This English speaking course uses exercises and examples to teach in an easy-to-follow manner. It lays out the differences between active and passive English sentences step by step to help you understand the grammatical rules governing both. We also help you polish your English listening skills and pronunciation through our audio recordings of native English speakers. Sign up to take your English forward.
Start Course Now