English Grammar - Adjectives & Adverbs (Intermediate level)
Learn how to use English adjectives and adverbs to describe things and actions with this free online grammar course.
Publisher:

Advance Learning
This English language course teaches you how to use adjectives to describe nouns and adverbs to describe verbs. We use interactive learning content, including examples and exercises, to explain how to handle the grammar of descriptive words at an intermediate level. We also provide audio recordings by native speakers to help you develop your English pronunciation and listening skills. This course takes your use of English to the next level.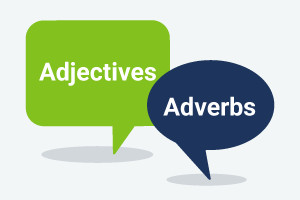 Duration

1.5-3 Hours

Accreditation

CPD
Description
This English grammar course begins by showing you how to use adjectives ending in '-ing' and '-ed' such as 'amazing' and 'amazed'. We explain how to use two or more adjectives together to describe a noun such as a 'big blue bicycle'. We also compare 'fact' and 'opinion' adjectives and demonstrate how to use two or more together. The course also covers other rules for combining English adjectives.
We then teach you how to use English adverbs correctly. Many adverbs are formed from adjectives by simply adding '-ly', for example, 'fluently' and 'beautifully'. The course explains how to discuss how somebody does something and how something happens using the correct adverb. We also cover how to use adverbs before adjectives and other adverbs and how to use an adverb before a past participle. Learning these rules will take you one big step closer to fluency in English.
This intermediate level English grammar course contains valuable lessons on adjectives and adverbs that can help you to express yourself better. This enhances your English skills and boosts your career around the world. We break complex grammatical rules down into easy steps with examples and exercises so sign up to polish your English skills.
Start Course Now