English Grammar and Vocabulary - Discussing Work (Advanced Level)
Improve your business English skills with the phrases and vocabulary taught in this free online English course.
Publisher:

Advance Learning
This free online English language course will teach you about the grammar and vocabulary used when Discussing Work. This course will teach you about discussing a range of work-related topics as well as important verbs, collocations, phrasal verbs, linking words, and expressions used when doing so. You will also learn about the correct application of gerunds and infinitives, which can help you to enhance your English sentence structure.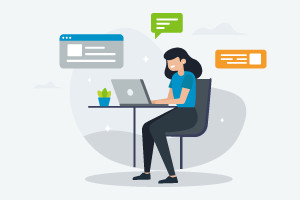 Duration

1.5-3 Hours

Accreditation

CPD
Description
This course will first teach you work-related vocabulary and phrases such as 'a high-pressure job' and 'deadlines'. You will also learn idioms like 'work around the clock' and 'get down to business'. You will then study how to use the gerund after certain verbs and prepositions, how to use the 'infinitive + to' after certain English verbs, and how to use the gerund after certain English expressions with 'it' or 'there'.

You will then study the different uses and forms of the infinitive verb. This will include the correct usage of 'although', 'though', 'despite the fact that', 'in spite of the fact', 'even though', and 'even if' as well as 'while' and 'whilst' (which have the same meaning). The course will then teach you the meanings of phrasal verbs such as 'to lay someone off', ' to meet up', and 'to step down'.

By learning the common English vocabulary and phrases relating to the workplace you can get one big step closer to gaining mastery of the English language. By taking this course, you will gain a much clearer understanding of English business vocabulary and important English grammar, which will help you to feel much more confident in your professional life. So why wait? Boost your English skills, today!
Start Course Now