Diploma in Prevention of Pollution by Oil from Ships
Learn about regulations and methods aimed at preventing oil pollution from ships and tankers in this free online course.
Publisher:

ADU
'Diploma in Prevention of Pollution by Oil from Ships' is a free online course that provides an effective guide to understanding the protection of the marine environment. Learn about the sources, effects and conventions to curb marine pollution as you analyze the relevant equipment, regulations and up-to-date terminology of this important field.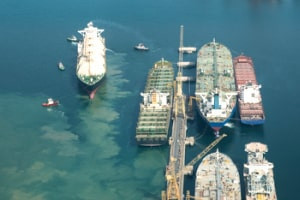 Duration

15-20 Hours

Accreditation

CPD
Description
On 24 March 1989, the Exxon Valdez spilled over 11 million gallons / 42 million litres of crude oil into the water of Prince William Sound in the Gulf of Alaska. Although the environmental damage and massive clean up efforts were the most visible effects of this casualty, one of the most important outcomes was the enactment of the United States' Oil Pollution Act of 1990 (OPA) by President George HW Bush. The OPA works to avoid oil spills from vessels and facilities by enforcing the removal of spilled oil and assigning liability for the cost of clean up and damage; requiring specific operating procedures; defining responsible parties and financial liability; implementing processes for measuring damages; specifying damages for which violators are liable; and establishing a fund for damages, clean up and removal costs. It amended the US Clean Water Act of 1972 and addressed the wide range of problems associated with preventing, responding to, and paying for oil pollution incidents in navigable waters of the US.
This diploma provides an in-depth analysis of the sources and effects of marine pollution by ships and oil tankers. The course also discusses the regulations, conventions and equipment that have been adopted for the prevention of oil pollution to protect fragile marine environments. You will learn about the MARPOL Annex I, which deals with the prevention of pollution by oil and came into effect on the 2 October 1983. It regulates the methods and means of controlling discharge of oil into the sea, and applies to all ships but provides for exemptions and waivers under certain conditions. 'Ship' here means a vessel of any type whatsoever operating in the marine environment. Some exceptions for discharges are allowed for safety of a ship or due to damage to the ship or its equipment. MARPOL Annex II is a regulation for the control of pollution by the noxious liquid substance in bulk that came into effect on 6 April 1987.
This free online course aims at inculcating the knowledge and values necessary for pollution prevention from shipping and tanker operations at sea. As a learner, you will study the evolution of the United Nations Law of the Sea (UNCLOS) and its relationship with marine pollution, along with the list of international conventions for oil pollution, liabilities and compensation. You will also examine the spill and pollution combating equipment that are available on board as well as the Shipboard Oil Pollution Emergency Plan (SOPEP). This course will be of significant interest to students, researchers and professionals involved in marine engineering and environmentalism. Register for this course now and begin your next learning journey today!
Start Course Now