Classical Leadership and Decision-Making
This free online course reveals the secrets to good leadership development, good decision-making techniques.
Publisher:

Saylor Academy
If you have always wanted to learn the crucial fundamentals of great, effective leadership, then this free online leadership course is the perfect start. Explore what good management and leadership entails, and how to apply practical methods from this course to better your decision-making skills and take your leadership from good to great by inspiring others to constantly do better and aim higher for the sake of themselves and the team.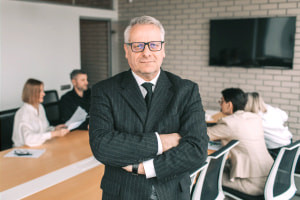 Duration

5-6 Hours

Accreditation

CPD
Description
In our personal lives, decision-making can involve determining many things, such as where we live, what foods we eat, and who our friends are. In business, decision-making can revolve around the products and services that a company offers, the markets it serves, the people it hires, and so on. In this leadership certification, we will look at the decision-making process, paying close attention to the basic decision types, tools, methods, and insights to help you quickly learn how it involves both logic and emotion. The content included teaches you practical tools to quickly determine the type of decision you are trying to make, methods of approach and the ways to effectively engage your teams in the process. Decision-making is often characterized as both an art and a science. You will want to trust your instincts, but also approach your decisions more methodically when you can - all including taking a balanced approach and considering multiple factors.

What does it mean to be an ethical leader? In this section, we study how our culture influences how we  view and value the individuals who represent the ideas, qualities, and ideals of ethical leadership. We begin by exploring the classical Greek philosophical tradition of virtuous leadership in accordance with Plato's Four Cardinal Virtues and Aristotle's views on leadership and virtue. These virtue-based approaches to moral leadership provide a framework that we can use to identify the characteristics or qualities of a virtuous and ethical leader: someone who lives a virtuous and ethical life based on leadership and service. The following part of the course investigates the ways we have applied and interpreted classical Greek virtues across time and culture. We explore how cultures conceptualize the virtuous leader and the impact culture has on leadership as a concept.

In the last part of this leadership training, we consider the traits or essential qualities for good leadership: honesty, moral courage and -vision, compassion, fairness, intellectual excellence, willingness to listen to others, creative thinking, aesthetic sensitivity, good timing, and selflessness. While these leadership elements frequently overlap with the classical ideals of virtuous leadership, the correlation is not always direct or complete. This section is of extreme importance because it makes distinct links between the virtues described by Plato and Aristotle. If you are in a leadership position, keen on understanding the psychology of good leadership, or progressing in your career and wanting to refine your leadership skills, then this leadership course will allow you to explore the theory behind great virtuous leadership and how to put it into practice on a daily basis.
Start Course Now