Carpentry - Introduction to Formwork and Joinery
Learn the necessary knowledge and skills for the construction of formwork and joinery with this free joinery course.
Publisher:

USAID
This free online Joinery course will introduce you to formwork and joinery. Carpenters are always in demand in the construction trade. Knowledge and expertise in working with various types of building materials, formworks, and joinery are indispensable requirements for any carpenter's job. With this course, you will gain a strong understanding of the general types of concrete and woodwork used in residential construction.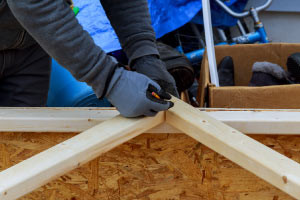 Duration

1.5-3 Hours

Accreditation

CPD
Description
This course will first discuss the different terms associated with concrete, concrete reinforcing materials, and concrete forms. You will study the four basic materials used in making concrete and the concrete mixing procedure used to get high-strength, general use, and large volume concrete. The course will also cover concrete walls, footings, and floor slabs. You will then look into types of windows and exterior doors used in residential construction, as well as study the kinds of glass used in window glazing.
Next, you will study the different types of doors used in residential construction as well as learn their different components. The course will also discuss the construction of stairs, as well as the different stair designs including straight-run, platform, or winding stairs. You will then study the three categories of stairs as well as the components of a flight of stairs and interior stairways. The course will also discuss the requirements, design, and layout for building stairways, stairwells, and stair framing.
The use of formwork and joinery are very important processes in construction. By gaining this skills, you can become a valuable member of almost any construction team. But sometimes, these processes can seem difficult and complex. This free online carpentry course is designed to teach formwork and joinery in an easy-to-understand manner and in just a few short hours. Check out the course today, and by the end of the week you will have given your career a solid boost.
Start Course Now