Introduction to Masonry - Revised
This free online course explores masonry and its history, materials, tools and practices to train you in a new skill.
Publisher:

USAID
This course shows you how to perform the tasks essential to masonry, including the spreading of mortar, furrowing, buttering and bricklaying. Masonry involves the building of structures from individual units and this course teaches you how to use basic masonry units like clay bricks, concrete blocks and stone to complete constructions. We study ancient and cutting-edge techniques to provide you with new skills that can boost your career.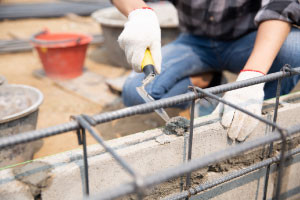 Duration

1.5-3 Hours

Accreditation

CPD
Description
This course takes you through the basic units used in masonry such as clay bricks, concrete blocks and stone. We train you to perform masonry tasks like spreading mortar, furrowing, buttering and bricklaying. We then identify important terms associated with the profession, including 'course' (a horizontal layer of bricks or stones bonded with mortar) and 'hearting' (the interior portion of a wall between the 'facing' and 'backing', which we also explain).
We then examine the hand tools and equipment essential to masonry, including the different types of trowels used to level, spread and shape mortar or concrete. We show you how to use mortar hoes to create the right consistency when mixing water with dry ingredients and how to employ line stretchers to keep lines straight. The course also establishes the importance of mathematics in accurately reading masonry specifications and instructions.
This course suits anyone who wants to learn the basics of masonry and offers a comprehensive understanding of this valuable trade. Whether you have a particular project in mind or want to work as a professional mason, this course teaches you everything you need to know to succeed.
Start Course Now