Business Process Automation
See how to successfully automate process to improve efficiency in your organization with this free online course.
Publisher:

Robert Chapman
In this course, you will learn how to improve productivity in your organization by automating some of your processes. You will also learn how to identify the processes that are fit for automation and develop a plan for it. Additionally, you will determine how best to choose a team for your project and understand the steps for successful automation delivery.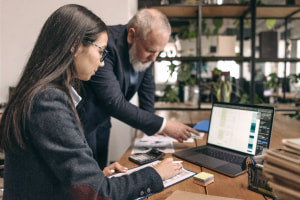 Duration

1.5-3 Hours

Accreditation

CPD
Description
This course introduces the fundamentals of automation. It starts by defining automation to give you a foundational understanding of what it encompasses. Automation is a broad term covering many areas: this course focuses specifically on process automation. Many organizations shift from human-operated processes to automated processes to improve efficiency. This course provides you with the key benefits of automation, which will help you understand why it continues to be the chosen solution to solve many issues in organizations. It is crucial to know that some processes are more suitable to automation than others. The two main steps to take when automating a process would be explained, helping you understand the requirements a process needs to meet before automation can happen.
Next, the course takes you through the process of identifying a ripe process or the features that qualify a process to be successful for automation. You will also understand that a process considered for automation should pose a certain level of impact. When automating, you want to be sure that the automation improves work and operations. This impact will be reflected over time in the overall productivity within an organization. Any project execution requires a team to make the dream work - you will learn the key people you need in your project team. Your team members need to possess particular skillsets to carry out various tasks to meet the goal so you will learn the criteria your staff must meet to guarantee success for the automation project.
Next, the details of the process of delivering an automation project will be explained. Study the steps for process automation, analyzing the activities conducted for automation and assessing the contribution of each team member at each project stage. You will also understand why you need to develop a business case before starting the process. Learn how to plan for the initial meeting with your stakeholders and the expectations you should have from them. To help you develop a proper automation plan, this course provides you with a guide on how to detail all the aspects of your project. The need for testing your project end solution is also covered. As you plan for testing, you will know what to look for concerning your predetermined expectations. Finally, you will understand the scope of support your team should offer to users after the solution has gone live.
Start Course Now