A Beginner's Guide to Making a Mainstream EDM Track
Learn about EDM sound design and master the FL Studio digital audio workstation like a pro with this free online course.
Publisher:

Colin Warn
To start as a bedroom producer, all you need is a computer, a digital audio workstation, and a set of headphones or speakers. But, to get initiated in the EDM field, it is essential to acquire precise insights on the DAW mixing console. This course teaches you everything you need to manage FL Studio music productions like DJ Martin Garrix. Begin experimenting with electronic dance music by subscribing to this course now.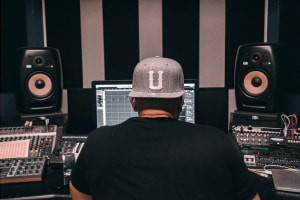 Duration

1.5-3 Hours

Accreditation

CPD
Description
The art of beat-making in the electronic music sector distinguishes a bedroom amateur from a professional artist based on their ability to achieve unique sound designs, powerful rhythms, and stimulating energy levels. If you are a complete newbie with no prior knowledge of generating beats, you have reached the ideal place. The FL Studio foundations covered in this course will teach you how to operate the digital audio workstation to get the most out of chord progressions, lead melody, and bass patterns. Further, irrespective of your prior experience on the topic, this multimedia training will lead you through the process of generating EDM tunes from scratch. After that, you'll learn how to change sound patterns, automate audio filters, and include special effects like compression, distortion, and reverb into your EDM songs inspired by DJ Garrix's creations using special FL Studio plugins.
Install FL Studio's add-ons like Camel Crusher, Limiter6, and 3xOsc to start planning and constructing an EDM tune from scratch. Then, continue to learn about music production procedures, which will teach you how to design the lead melody, compose piano chord progressions, and learn how to arpeggiate the bass like a pro. Next, you will be able to insert automation filters, sidechain the sounds in the mixer, add distortion to sweep noises. You will also learn how to handle audio FXs that revolutionise the compositions of your electronic dance songs. Follow the second section of the course to get an overview of the percussion pattern procedure. You will explore various expert ideas and tactics for changing the groove and atmosphere of the song to attract more audiences. Extend your musical artist producing style by experimenting with third-party plugins, effects, and synthesisers until you are satisfied with your mixing results. Furthermore, by emulating DJ Martin Garrix's technique piece by piece, you will learn chord progressions, melody creation, and song layering in FL Studio to build an EDM tune.
Finally, you will discover expert strategies for performing EDM music production arrangements that incorporate intricate sound effects from the track's build-up to the drop part as part of the training curriculum. The multimedia classes will walk you through a series of approaches for developing the intensity, atmosphere, and engagement needed to keep you engaged during your production activities. Master the Limiter6 plugin and be an EDM expert by unfolding your quality creations to make them sound vivid. Maybe you're already part of the EDM sector and would like to strengthen your mixing skills or, perhaps you're just beginning into music but want to make a mainstream hit. In any case, 'A Beginner's Guide to Making a Mainstream EDM Track' provides a framework and fundamental ideas for creating high-quality electronic dance music projects with FL Studio as the digital audio workstation. If you want to get the most out of your DAW and exceed your creative boundaries like DJ Garrix, this is the course for you.
Start Course Now