Piano Improvisation for Music Production
Learn the foundations of piano playing as a beat maker to produce high-quality music with this free online course.
Publisher:

GratuiTous
Have you ever imagined learning how to make beautiful piano beats without having to study conventional music theory? This course presents the basics of producing awesome beats using piano chords, scales, notes and various improvisation techniques played in a beat-making environment. Start improving your piano skills as a beatmaker and keep yourself motivated to create extremely catchy loops by taking this course now.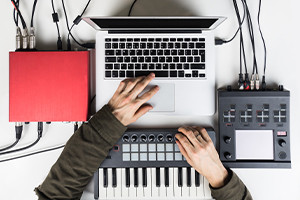 Duration

1.5-3 Hours

Accreditation

CPD
Description
The ability to properly structure a beat to give the singer a clear framework for their vocal performance cannot be understated. If you are a complete amateur with no prior expertise on how to make a beat, the essentials of music theory presented in this course will guide you on how the piano works and introduce the fundamentals of beat making. Alternatively, if you are already a beat maker, the material will offer you a deeper understanding of piano chords and scales, counting beats, different rhythms and a variety of tools and techniques that will add 'fullness' to your compositions. The course begins by illustrating the fundamentals of piano and the use of basic keynotes to build a solid knowledge base. You will explore a detailed walkthrough of C major and minor scales and the visualization of music production concepts for beat making through demonstrative video-based lessons.
It is well known that beat makers compose beats using sampled sounds of chords, drums, guitars, and even a vocal top-line, a characteristic more often found in hip-hop, R&B, Rap and Urban music. While a music producer also can compose original musical content, their role is more like a movie director. It involves the knack of achieving their musical vision by polishing raw ideas and sounds into a finished product that meets the requirements of the studio, artist and audience. In addition, it involves the integration of various tools to mix, edit and combine the tracks and sound to create music. This course focuses on the use of the piano in this complex process. You will study the essential concepts of beat making that contribute to cultivating your piano skills to produce beautiful and harmonic beats. The procedure for playing the chord notes in a structured sequence using an arpeggiator is broken down for you using visual illustrations.
Finally, the process of producing exceptional beats using innovative piano chords is explained. You will learn the significance of timing variations to keep the sound fresh for listeners. Following this, the methods of 'bouncing' and adding 'completeness' to the composition using hand techniques are illustrated, including the methods for expanding your piano practice with tips for enhancing your skills with each hand separately. You will also be taught about the applications of piano chord progressions in the music production industry. In addition, the significance of mixing rhythms for producing amazing musical melodies is broken down. Lastly, you will discover the tips and tricks for remaining encouraged and increasing your piano-playing skills, especially for creating beats. 'Piano for Beatmakers and Producers' is an informative course that enlightens you about the role of beat makers as well as the methods of producing remarkable beats by improvising on the piano.
Start Course Now