Wildlife Conservation and Ecosystems
Learn about the ethics of conservation and its application to wildlife conservation in this free online course.
Publisher:

One Education
In this course, you will be taught the history and theories of conservation as well as the benefits of biodiversity in conservation biology. You will learn about species, genes and ecosystems as well as the relationship between them. On top of that, you will study ecosystem diversity, species diversity, ecosystem management and wildlife conservation. Also, this course will explore the intrinsic value of species and their status.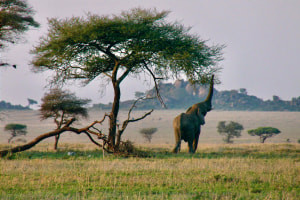 Duration

1.5-3 Hours

Accreditation

CPD
Description
Wildlife conservation is the practice of preserving and protecting animals, plants and their habitat. Wildlife conservation is important because it ensures that future generations would appreciate and enjoy our natural world and the wonderful species that live within it. Wildlife conservation requires a sound understanding of genes and species and how they interact with their environment as well as how they are being affected by the environment and human activities. This course will help you gain an understanding of the theories of conservation and their applications to wildlife conservation. The course begins by introducing you to conservation and its historical campaign. You will learn about the ethics and values of conservation, the concept of biodiversity and its benefits in conservation biology. Furthermore, the role genes play in biodiversity and the relationship between species and their ecosystems will be brought to your understanding. You will be shown ways of maintaining ecosystem biodiversity and structural biodiversity.
An ecosystem relates to the way different living (plants and animals) and nonliving organisms live in close proximity to each other and how they interact with each other. This relationship has a significant effect on the other creatures and plants that live in the same or similar areas. In this course, you will be introduced to ecosystems and ecological diversity. You will learn about ecosystem diversity, species diversity and how to increase the stability of ecosystems. You will study the landscapes of ecosystems and how they affect their stability as well as how species interact with their ecosystem. Upon that, you will learn how plant species interact with animal species in an ecosystem as well as the intrinsic value of species and their conservation status. This course covers the anomalies that result in the rarity of species and the various instrumental values of species such as economical, scientific, educational, ecological values and more.
Have you ever wondered why some species go extinct? To some extent, extinction is natural and could be due to several underlying factors. The extinction of species from the earth is ongoing and rates have varied over time. This course covers both the theoretical and practical aspects of wildlife conservation and would help you gain a deeper understanding of why species go extinct and the critical steps to take in order to avert the extinction of species. You will learn about wildlife harvesting, wildlife control, ecosystem management and conservation. The challenges of the ocean are posing disastrous consequences on marine biodiversity. In the final part of the course, learners will study the challenges of the ocean, its impact on marine species and the solutions to these problems. This course is important for biologists and learners who care about the sustainability and conservation of wildlife for future generations. So why wait? Start this free course now.
Start Course Now