Wildlife Health and Disease Control
Learn how to manage the health of wildlife and also control outbreaks of disease in this free online ecology course.
Publisher:

NPTEL
In this course, you will be introduced to animal-health management and decision-making practices. You will also learn about some common wildlife diseases and how outbreaks occur. Study the maintenance of genetic variation at the location where it is encountered in the wild and go on to see the role of botanical gardens in conservation, and techniques that can prevent the extinction of species like seed banks.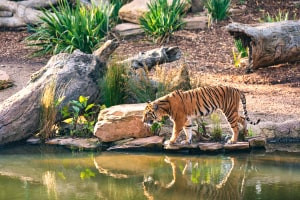 Duration

6-10 Hours

Accreditation

CPD
Description
This course promotes a better understanding of wildlife diseases and their management. You will be taught the horizontal and vertical transmission of diseases and what a host is, learn about some common wildlife diseases, the principles of disease management, the 'epidemiology triangle' and the maintenance strategies of infectious agents.
You will also study conservation genetics and Mendel's laws of genetics, analyzing population genetics and the violations of the Hardy-Weinberg equilibrium. This course will explore chromosomal mutations, genetic disorders and inbreeding, and you will be shown ways of conducting population viability analysis.
Finally, you will be introduced to in-situ and ex-situ conservation, especially the genetic implications of ex-situ conservation plus the role of zoos and their management. Learn about botanical gardens, cryopreservation, seed banks and the procedures of seed collection. This course is important for ecology and conservation students who want to have a better understanding of wildlife diseases and will prepare learners to recognize and manage the adverse impacts of zoonotic diseases on human health.
Start Course Now