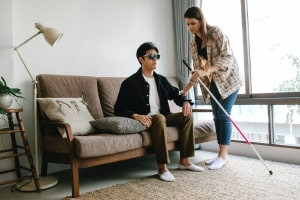 Understanding Social Care
-
Learners already enrolled
This Free Online Course Includes:
Hours of Learning
CPD Accreditation
Final Assessment
Start Course Now
COURSE PUBLISHER
Published by
-
Understanding Social Care
Master the essentials of providing support for the vulnerable within your society in this free online course.
'Social care' refers to a wide range of activities from child protection to end-o...
'Social care' refers to a wide range of activities from child protection to end-of-life care for adults. At its core, social care involves providing care and support for the most vulnerable members of society such as the aged, children, the disabled or the mentally challenged. By taking this course, you will gain a rich understanding of the nature of social care work, including the duties, conduct and legal requirements of a care worker.
Read More
In This Free Course, You Will Learn How To
View All Learning Outcomes
View Less
Complete This CPD Accredited Course & Get Your
Certificate

!
Certify Your Skills

A CPD accredited Alison Diploma/Certificate certifies the skills you've learned

Stand Out From The Crowd

Add your Alison Certification to your resumé and stay ahead of the competition

Advance in Your Career

Share your Alison Certification with potential employers to show off your skills and capabilities
Learner Reviews & Feedback For Understanding Social Care
View More Reviews
Back to course information
Learners Who Took This Course Also Enrolled In
Frequently Asked Questions
What is the main role of social care?
What are the key responsibilities of a social care worker?
What is the best social care course to take?