Traditional Irish Guitar | Beginner 2
Build on the guitar basics to play Irish jigs and reels using Drop D tuning, in this series on traditional Irish music.
Publisher:

World Music Project (Alison)
This free online guitar course is ideal for beginners who wish to learn to accompany Irish music. Your tutor is professional musician Michael McCague, who is joined by fiddle player Doireann Ní Ghlacáin for many of the lessons. This sequel to our Beginner 1 course is ideal for anyone with a basic knowledge of the key of D. Learn new chords using Drop D tuning, along with jigs and reels in 11 interactive guitar lessons with accompanying notes.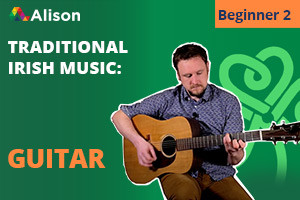 Duration

1.5-3 Hours

Accreditation

CPD
Description
These self-paced guitar lessons are suitable for newcomers to the instrument, although anyone who is familiar with standard tuning and wants to master the Drop D chords favoured by Irish traditional musicians may also enjoy it. Drop D tuning is largely responsible for the depth of tone you find in Irish folk guitar. Here, professional performer Michael McCague builds on the basics he taught in the Beginner 1 course, where he focused on chords from the key of D, along with the reel rhythm. These lessons will expand your knowledge of chords, teaching you to play in a variety of keys and add to your repertoire of tunes with a focus on jigs.
The lessons begin with an introduction in which Michael goes over some of the basics from the Beginner 1 course, then teaches the chords for playing in the key of G. The first tune on this course is the jig, 'Tae in the Bog'. With fiddle player Doireann Ní Ghlacáin providing the melody, Michael breaks the tune down into parts and teaches it across two lessons. The next tune you will learn is another jig which is often paired with 'Tae in the Bog' in sessions. With a name highlighting the rural origins of many Irish tunes, 'Fasten the Leg on Her' was written by piano player Brian McGrath, of De Dannan, and again, Doireann plays the melody while Michael teaches you the rhythm. The next jig is in the key of A minor and Michael devotes a lesson to this key before teaching you to play 'Scatter the Mud'. The final tune of this 11 part course is the reel, 'Rolling in the Barrel'. This is a single reel in the key of E minor with similar chords to those for the key of D. As the reel rhythm is easier on the guitar than a jig rhythm, this is a relaxed ending to this 11-part course.
Whether you want to play Irish traditional or folk music or that of other genres, this free online guitar guide provides the perfect foundation. A multi-instrumentalist and songwriter, your tutor Michael McCague is highly regarded with his self-penned album 'The Waylaid Man' featuring many top Irish musicians. He has also performed on other musicians' recordings and has been a member of bands such At First Light, the well-known group At The Racket as well as Téada, and has performed across Europe and the USA. Michael comes from a musically gifted County Monaghan family and still performs alongside his brothers, Donal, Sean and Connor. While he learned tin whistle and fiddle at a young age, his professional career has revolved around his prowess on the bouzouki and guitar. He now lives in Galway, on Ireland's culturally vibrant west coast, where he teaches and performs. Once you have completed this course, you may wish to proceed to the final course in this three-part series, Traditional Irish Guitar, Intermediate. These courses have been designed to give would-be guitarists a practical grounding that will help them gain the skills and confidence required to play along to a wide range of tunes. By completing this course you can develop your technique and gain certification by passing the end-of-course assessment. Pick up your plectrum, get your guitar and commence the course to take your guitar-playing to the next level!
Start Course Now