How to Feed Your Dog a Raw Diet Using BARF or RMB Methods
This free online course shows you how to feed your dog a raw, natural diet that leaves them lean, fit and healthy.
Publisher:

Sharon Bolt
During this dog care course, you will learn how to feed your dog a raw diet that contains no preservatives, colourants, additives or low-quality ingredients. You'll learn a natural feeding method that is easy for dogs to digest and gives them vibrant health - regardless of their age, current health or weight. Additionally, raw feeding is a great way to reduce your dog food bills and will save you a fortune at the vet's office.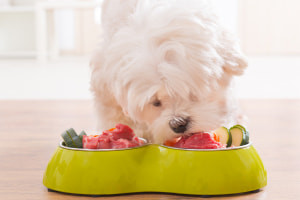 Duration

1.5-3 Hours

Accreditation

CPD
Description
Do you want to feed your puppy or dog a diet that is designed to give them optimum health, body weight and longevity and one that has no preservatives, colourants, additives or low-quality ingredients? This dog care course is designed for owners who would like to reduce their dog food bills and save a fortune at the vet's office. Some dog food ingredients can cause health problems and behavioural issues such as hyperactivity and aggression. When dogs are fed the right diet, unwanted behaviours can disappear and training becomes much easier. It's time to take back control and feed your dog the way nature intended. Raw feeding (often called BARF or RMB) is a natural way of feeding puppies and dogs of all ages and gives them clean teeth, fresh breath, bright eyes, a shiny coat, a strong immune system, healthy joints, optimum health and longevity. It also prevents foul-smelling stools and wind and stops dogs from 'dragging' their bottoms across the carpet, big vet's bills, recurring illnesses, unwanted dog behaviours caused by food allergies and deficiencies and much more.
'You are what you eat' and your dog is what you feed them. Long before the dog food industry took a firm hold on us, dogs were lean, fit and didn't suffer from the numerous illnesses (or unwanted behaviours) we see today. Back then, there were no cans or packets of dog food to open. Dogs were fed like dogs and were healthy, balanced and well-behaved. During this raw feeding course, you'll discover three different ways you can feed your dog a raw diet and where to buy the food to do so. You'll learn that this is not only a much healthier way of feeding your dog but is also much cheaper than regular dog food. This course provides the answers to common questions and myths about raw feeding that can stop people from properly feeding their dog, which in turn fills veterinary surgeries with sick dogs. A poor diet also creates the need for additional dog training in order to resolve the unwanted behaviours caused by feeding dogs conventional dog food.
During this raw feeding course, you'll learn the exact diet Sharon fed her two dogs, which stopped their scooting their bottoms across the floor within days and kept them away from veterinary clinics for most of their lives. You'll also get a checklist of what you need to get started feeding a raw diet straight away (it's much easier than you might think). By the end of this dog care course, you'll know enough to switch to feeding your dog to a raw diet, what to feed them, how much to feed them and where to get your supplies. You'll know exactly how to take control of what is fed to your dog - which comes without nasty side-effects, promotes optimum health and will save you a fortune at the vet's office. Imagine your dog with a shiny coat, optimum body weight and vibrant health. That's what you can look forward to after completing this course. It's never too early or too late to feed dogs raw food and you don't need any prior knowledge of raw feeding to start.
Start Course Now