The Ten Minute Home Workout
Learn how you can motivate yourself to work out from home daily with this free online course.
Publisher:

TJ Walker
Exercising daily can be a challenge for anyone. Where do you find the time? The exercises in this course will help you complete exercises within a set routine. You will also learn how to motivate yourself by programming your brain to change your daily exercise habits. By learning how to turn your home into your own personal gym, you will begin to lead much healthier and more successful life.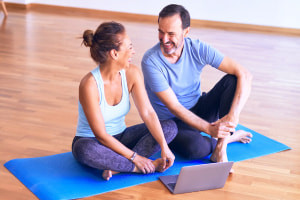 Duration

1.5-3 Hours

Accreditation

CPD
Description
How much time do you have to go to the gym in a week between home and work? It seems as though there is no time in this day and age, but what if it was possible to exercise from home in under ten minutes? In this course, you will learn how to train your body and mind using the techniques created and updated by personal development expert TJ Walker. One tool with three different methods that you will study is the Selfie Programming model. Walker created these models to reinforce human behaviour and daily habits to help motivate you to achieve your fitness goals. TJ's method of reinforcing positive daily habits includes using your cell phone's memo app to record yourself, taking photos of yourself and creating a checklist. Are you familiar with audio production or photography? This course takes you through each program separately and covers tips and tricks that you can use for your creations.
You will take a deep dive into two categories of exercises that you can complete in your own home. Firstly, you will cover simple exercise programs that anyone can do. You will learn how to complete stretching exercises that you can finish while making breakfast. How often do you go for long runs around your neighbourhood? This course covers how running for just sixty seconds inside can provide benefits similar to longer runs. You will also study exercises that require no special equipment, such as jumping jacks, push-ups and pull-ups. We will also cover how to do them safely to avoid injury. Secondly, we will cover weight lifting options that you can do in-home and how lacking the proper equipment shouldn't hold you back. For most people, lifting weights is too boring, but using the brushing teeth philosophy can motivate you to finish your first rep.
As you continue your studies, you will be taught various methods of motivation to push you to exercise every day. You will cover methods like the previously mentioned 'brushing your teeth' philosophy, new techniques, fun activities and more. You will also learn about the recommended number of steps you should take during a day and how many we are taking on average. More importantly, increasing that average number, such as associating your treadmill with something positive, is introduced. This course finishes with some personal advice from TJ on how to create your daily exercise plan and what is holding you back from your weight loss goals. Throughout this course, you will form a solid understanding of motivating yourself to work out at home. You will learn fast and easy techniques that can be done in under ten minutes every day. Start this course today to discover the best home workout routine around.
Start Course Now