Diploma in the Essentials of Thesis Writing
Learn practical skills for writing a cohesive and compelling thesis (dissertation) in this free online course.
Publisher:

Robert Baffour
In this free online course, we will demonstrate the practical, step-by-step approach for developing, writing, and sectionalizing the contents of a thesis (dissertation). Learn the most effective methods for crafting a thesis from the introductory chapter to the concluding chapter. Completing this course will develop self-confidence and skills to put together a cohesive and convincing world-class thesis. Let's get started!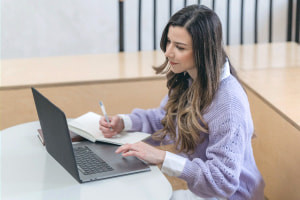 Duration

6-10 Hours

Accreditation

CPD
Description
The Hayfield Handbook of Technical and Scientific Writing from the Massachusetts Institute of Technology (MIT) defined a thesis as a lengthened academic, experimental or theoretical report with a problem-methodology-results-discussion arrangement. It is usually submitted as part of the requirements for obtaining an M.Sc., PhD, and bachelor's degree from an institution of higher learning. More often than not, writing a world-class thesis (also known as a dissertation) is a daunting task. As such, most students quit their studies at the dissertation stage. Going through the research material, conducting cohesive and well-structured research, and defending the results, is an intimidating task. Without proper guidance, most students just throw in the towel and quit. In fact, for many students, this will be the longest, most challenging, and most important assignment to be completed in their studies. However, unlike the old school of thought, thesis writing should be interesting and exciting, because it involves solving specific problems of humanity with new and important discoveries. In this free online course, we will highlight the fundamental structures of a thesis. Then, we will show you the structures that differentiate a research proposal from a thesis.
Next, the elements that constitute a research design, which is the centrepiece of the entire study, will be examined. You will also see why the writing sequence of a thesis must begin with the literature review and not the introduction chapter. The contents of the introduction chapter, including the problem statement, research hypothesis, and the assumptions, limitations, and delimitations of the study, will be elucidated. Likewise, you will learn about the literature review flowchart, an indelible template for crafting a compelling story from the works of other researchers. Then, we will reveal the pitfalls to avoid when writing your literature review chapter. Moreover, the critical characteristics of a topic, and systems for tracking your research report, will be outlined. You will be taught how to package your research report like a professional and how to present your key discoveries. We will show the two major internationally recognized styles for writing a thesis. You will examine the conceptual and theoretical frameworks and the structures and sections of the methodology chapter.
Finally, we will explain the techniques for data and sample collection and data analysis and ethical procedures. You will be taught the most effective approach to write the results and discussion chapter, including the structures for discussing your findings. Discover why selecting the committee that will support your goals is a crucial vantage point and why their ability to quickly reach a civilized consensus is the panacea to your academic success. You will be taught how to defend your project, including what to present, when to present, and how to present. Then, the three critical roles of a thesis supervisor will be explained. What goes into the methodology chapter of a thesis? How do you present your results and discussions? We will address these questions and several others in this course via a reader-centred approach. Whether you are a student or a teacher, by completing this course, you will develop expertise in presenting the critical discoveries of your research and how it contributes to the body of knowledge. Your mastery of this subject will consequently increase your confidence and improve your professionalism. So why wait? Start this course today!
Start Course Now