The DJ Mixtape
Hone your talents and learn the art of creating fun DJ mixtapes with Ableton Live software in this free online course.
Publisher:

Dan Hayes
In this free online DJ course, you will explore how to create DJ mixtapes using the Ableton Live software. This in-depth, easy-to-understand Ableton Live course will start by guiding you through the important process of preparing your music and teach you about transitions, programming your mix, editing the programmed mix and finally close out on volume levels and mastering to ensure that your audience has an amazing listening experience.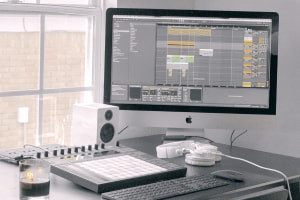 Duration

4-5 Hours

Accreditation

CPD
Description
Music is a very important part of most of our lives and this DJ course will guide you through a rewarding experience of learning how to create mixtapes with Ableton Live digital audio workstation. The course starts you off with the basics by first describing how folders are created, how music is tagged using Mixed In Key or other options like Serato, Traktor, DJ Pro and Rekordbox and then the fundamentals of importing music into the Ableton Live application. You will also learn how templates are created and how music is warped, giving you the ability to do lots of cool things including speeding up tracks while maintaining proper pitch.
The six dynamic music programming transitions is up next in the course, after which you will be taught exactly how to move audio around Ableton in order to differentiate between scrolling audio and moving whole blocks. This forms the basis for the following section which is all about programming your DJ mix. You will be shown how to use key detection software to select your tracks from the mix, bearing in mind the 'key in tone' of records and beats per minute (BPM) and how Ableton's internal timing grid for proper alignment of time frames with transition points can make your workflow much more organized. At this stage of the course content, you are encouraged to listen to a rough draft of your project and you will learn how to listen to it as a whole to detect any nuances. Once this part of the process is done, the techniques for making alterations, replacing tracks and adding tracks without necessarily altering the rest of the mix will be discussed. The next exciting section of the process includes putting in the final touches to your mix by regulating volume levels so that tracks sit well with each other without necessitating adjustment by listeners. Key themes then include mastering your mix so that you can get it as loud as possible without any distortions before the final export. There are some in-depth assessments throughout the course along with curated "homework" after every major topic, to refine the techniques you have learned. 
This course is for everyone who has basic computer knowledge and is interested in learning how to create mixtapes using Ableton Live digital workstation. If you have a passion for music and want to share this love with your friends or family or even turn it into a budding career by submitting your mixes commercially, then you should enrol for this fun and exciting free online DJ software course.
Start Course Now