The Cloud Kitchen | A Revolutionary Concept
Learn the vital and strategic skills required to lead a successful cloud kitchen business with this free online course
Publisher:

Manvir Singh Anand
The food service industry has evolved over the years in order to keep up with the advances in technology and the changes in consumer habits. This has paved the way for a new kind of business model i.e. Cloud Kitchens. In this free online course, you will learn what a cloud kitchen is, how to manage it, and more importantly discover how to lead your food and beverage business successfully without any prior experience utilizing cloud kitchens.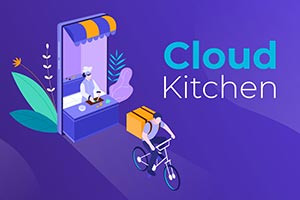 Duration

1.5-3 Hours

Accreditation

CPD
Description
Success! You have taken a small taste of the delicious dish that you have just prepared. All the flavours have come together flawlessly. The colour coordination and the appearance of the food are impeccable. After dinner, you receive many positive compliments as well as others telling you to open up your own kitchen. Later that night, you begin to think of what was said, and you wonder where your talent can take you. You ask yourself, "It sounds like a good idea, but where would I start?". When a budding entrepreneur is thinking of starting a food business, a Cloud Kitchen is an excellent option for a successful career. Did you know that well-known and prosperous companies are using these kinds of kitchens? However, the question that you now might have is, what exactly is a cloud kitchen, and how does it benefit me? By studying this course, you will discover in detail the concept of this strategic business choice.
We will begin by discovering the concept of a cloud kitchen in easy to follow videos. A cloud kitchen is often misconceived as being a home delivery business, and cloud kitchen aspirants invest in the business without understanding its base. In this course, you will learn billing, kitchen and stock management and many other vital kitchen aspects. Analyse the four major points of the business evolution cycle. This is important to understand because it involves a cloud kitchen. At the moment, with worldwide circumstances being heavily impacted by COVID-19, dine-in restaurants have been shut down or are only operating at minimum capacity, making way for significant market opportunities for cloud kitchens to rise quickly. The delivery-only model that is being used by these kitchens has been made possible by the rapid advances in technology and changes in consumer habits. Next, we will learn about the hype surrounding them and how every home kitchen can become a cloud kitchen. How is this possible? In this course, a chart will be explained in a detailed video about this revolutionary opportunity.
Towards the end of the course, you will consider the three major cloud kitchen business models. These models apply to any career plan you may have in mind, whether you plan to handle multiple or single brands, kitchens and outlets. An important key point to think about is selecting your geo-location. Why is this so vital to apply and what does this mean? Your location will define how your business will grow over time. In this course, discover four essential factors that you can use to plan your geo-location well. By applying these details, you can increase the opportunities for success. Anyone with an interest in learning about Cloud Kitchens and the vital role they play in restaurant management will gain a lot from this course. Studying this course will help budding entrepreneurs, kitchen managers and anyone thinking about entering the foodservice industry. It provides techniques and strategies to skillfully plan your kitchen's location, manage kitchen expenses, and increase your cloud kitchen's success. First-time entrepreneurs and cloud kitchen owners can also benefit from completing this course and bringing their skillset up a notch.
Start Course Now