Technical Analysis: Stock Market Trends
In this free online course, learn to track stock market trends, analyze market charts and make and implement strategies.
Publisher:

The Tireless Worker
Stock markets form an enormous part of financial sectors across the world. Barely a day goes by without hearing about the 'stock market' or 'stocks'. This short free online course will introduce you to stock markets, market indices, market trends and dynamics. It will enable you to carry out technical analysis and make informed trading decisions. You'll learn to formulate, test and implement trading strategies to take advantage of market trends.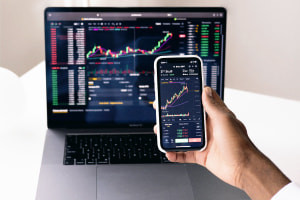 Duration

1.5-3 Hours

Accreditation

CPD
Description
This free online course will teach you all you need to know to conduct a technical analysis of the stock market. We will start with an introduction to the stock markets, market indices, market dynamics, and various factors that influence the market. You will receive detailed explanations of line, bar, and candlestick charts commonly used to represent market movements. This part of the course concludes with an explanation of trendlines, a demonstration of how they are drawn, and tips for using them to make investment decisions.
The second part of the course will explain the concept of support and resistance in the stock market, determine levels of support and resistance, and draw support and resistance lines. We will then explain the role of indicators in stock trading and identify various indicators that are commonly used in monitoring markets. The course concludes by demonstrating the process of formulating, testing, improving, and implementing a market strategy to take advantage of stock trends.
Making sense of the stock market can be daunting, let alone knowing the right tools and techniques to employ in ensuring you get the best of trading stocks. Suppose you are interested in learning about the stock market, hoping to get started with trading stocks, or looking to expand your knowledge of the stock market. In that case, this short, free, online course is exactly what you need. Start now and gain vital insights to help you carry out technical analysis and navigate the stock market in just three hours.
Start Course Now