An Introduction to Forex Trading
Learn about the fundamentals of Forex trading and how to be a successful trader with this free online course.
Publisher:

Daksh Murkute
This course offers an essential understanding of how Forex trading works. It highlights the diverse ways to go about choosing a broker and the various trading styles available. You will learn how to start trading without making simple first-time blunders that are costly. Fascinated about trading but terrified to make that leap? Already trading but making losses instead of a profit? Let us be your guide!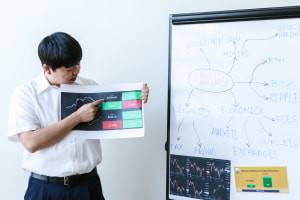 Duration

1.5-3 Hours

Accreditation

CPD
Description
This free online beginners' Forex trading course will provide you with a foundation for the process of trading in Forex (the foreign exchange or FX market). The foremost aim of Forex trading is to make money online. This course will acquaint you with the different processes that are involved in trading, how to get started and how to be successful by making money. You will explore the jargon (or special language) associated with Forex trading. When you have completed the course, you will understand why a broker is needed when starting a trading account, and you will have an idea of the miscellaneous fees that will be deducted from your account by brokers.
This course will also educate you on the different software available to assist you when you've set up your trading account and how you can set up a demo account before diving into the market. You will learn how successful traders become prosperous. Discover how Forex works, use their knowledge and avoid the errors these traders made when they were starting. This course will help you see the benefits of Forex trading and help you understand how your availability and personality play a role in knowing what your trading style will be.
Finally, why choose Forex trading? Why not trade on the stock exchange market instead? Simple: the Forex market is easier to get into as you can start with as few as 10 US dollars. As a result, it is more accessible to a larger portion of the population as opposed to trading on the stock market. Does it come with risks? Is there any form of investment that doesn't? Forex trading is suitable for anyone willing to take advantage of the opportunity, once you have a basic appreciation of how it works, how to manage your time, and what you want from it. This course is suited for anyone interested in Forex trading. Do you want to be a part of a trillion-dollar per day industry? Enrol in this course today and learn how to make your money work for you.
Start Course Now