Forex Trading - Technical Analysis and Risk Management
In this free online course, learn the technical analysis of forex market as well as money and risk management in forex.
Publisher:

One Education
Do you want to learn how to trade forex but don't know where to start? Then begin your journey with this course and gain a good grasp of the forex market in order to avoid financial ruin. In this course, you'll learn about the currencies that are used in trading forex as well as the currency pairs. You will be taught forex technical analysis, forex pitfalls, how to manage risks in trading forex and the role trendline plays in the forex market.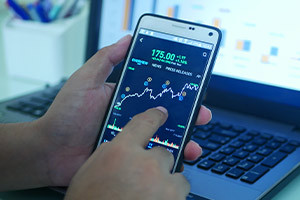 Duration

1.5-3 Hours

Accreditation

CPD
Description
Forex is a globally traded financial market. Forex exchange involves banks known as dealers in forex market. These dealers are involved in enormous quantities of foreign exchange trading. A foreign exchange transaction is needed when an investor wants to make an investment in a foreign country or a consumer wants to consume a foreign-made good. In light of this, the forex market's depth provides a speculative opportunity to those who wish to trade in it and seek to profit from it. Are you a trader and wish to understand forex trading and make a profit in it? This course will guide you through the fundamental analysis of trading forex. You will learn the trade and investment flow between international partners who share the same currency as well as the difference between the stock market and forex market. Upon that, you will be shown the currencies that are most traded in forex, forex rate and margin as well as the trading hours for forex. Also, the difference between buying and selling prices in the forex market will be covered.
Being able to read and understand forex quotes will help you become acquainted with the unavoidable terminologies in forex trading such as currency pair which tells you the currencies involved in the trade, pip, spread, bid, ask price and more. This course explores the forex quotes that are common when trading in forex as well as forex terminologies. You'll learn about the agreement that can exist between two parties over which currency to buy and the one to sell as well as the fixed date of the agreement. Upon that, you will be shown the characteristics of the future deals that can be struck by traders. You will be taught currency options, their price, the types of currency options and the degree to which the option's value changes, relative to any change in the underlying market. Following that, this course will explore fair value which is an important metric system for setting prices of assets as it aids in assessing the asset worth precisely.
Forex traders or investors often pay attention to big economic reports such as orders placed on durable goods because such economic data are known as an economic indicator that shapes trading. You will be shown the goods that are durable in forex. Upon that, you will be taught gross national product and gross domestic product regarding forex trading as well as the essential reasons for estimating the rate of inflation in wholesale prices and retail prices. Additionally, you will gain an understanding of technical analysis and how it can be used to forecast future price movement. This course examines the types and forms of price charts in forex as well as the signals generated by analysts. You will be shown the poor strategies in forex trading, how to reduce transaction costs and manage risks. This course is for beginners and traders who seek to understand forex trading and profit from it. Are you willing to take risks in forex and make profits? Enrol and start this course today.
Start Course Now