Solar Engineering - Thermal Energy Storage and Application
In this free online course, you will learn about the storage and applications of solar thermal energy.
Publisher:

NPTEL
This free online course on the storage and application of solar thermal energy brings you insights into the fascinating techniques being explored worldwide to store solar energy and use the stored energy in an efficient manner. You will appreciate the need and importance of storing solar energy in a usable form and marvel at the ingenious techniques being used to store and utilise this energy amid the challenges faced.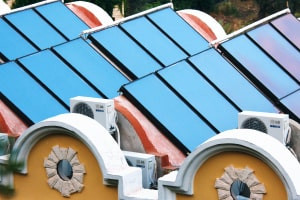 Duration

4-5 Hours

Accreditation

CPD
Description
This free course on solar energy storage and application takes you a step further towards harnessing and collecting solar energy. After all, what is the point of collecting vast amounts of solar energy using massive collectors if you're unable to store it and use it at night and on cloudy days? Take a look at the worldwide endeavours to store solar thermal energy efficiently and cost-effectively. Can the captured solar thermal energy also be used to generate electricity? Is the world able to utilise solar energy in heating and cooling and replace the current electricity used in the grid? This course investigates these ingenious methods that are being employed to achieve these challenging tasks.
The course begins by explaining the need and importance of solar energy storage. Based on the quality and quantity of the requirements necessitated, you will see how heat is stored in different forms, using various mediums, the preconditions of such storage, and the precautions that should be taken. For example, have you ever thought of locking up the heat in a chemical compound simply by means of an endothermic reaction? Learn all about these problems, along with the fascinating method of heat storage using a solar pond. You will discover how a solar pond functions and how to design a solar pond for effective collection and storage of heat. Once stored, this energy also needs to be used for various purposes.Before you dive deeper into some of the amazing applications of solar heat, you will learn about the newest trends in solar cell technologies. You will also see how solar photovoltaics can be coupled with solar thermal collectors in a Photovoltaic Thermal (PVT) system to achieve astounding results. Next, you will learn about some solar thermal devices for low, medium and high-temperature applications. These include solar cookers, solar pumps, and solar desalination. Who would have thought that heat could be used for cooling and refrigeration? You will study these methods scientists have invented to do just that.
However, further research in the storage and utilisation of solar thermal energy is imperative to make solar energy more reliable and competitive. Energy storage, especially, has a pivotal role to play in the future. This course is your stepping stone into that future, which provides sustainable, reliable, and affordable energy for all. Such a future is not just a dream, but one of the Sustainable Development Goals (SDGs) laid out by the United Nations (UN). In order to reach that goal, renewable energy must be taken seriously. Needless to mention, solar energy is the most promising of all sustainable energy sources. By taking this course, you will gain insights into an important aspect of our solar energy future. Not only will you learn about the newest trends and techniques, but you will also learn to appreciate the challenges faced by researchers and engineers and thus prepare yourself to be an active participant in the global endeavours towards sustainable development and livelihood. Do not wait any longer; start expanding your knowledge today!
Start Course Now