SFML C++ Game Development - Flappy Bird Clone
This free online C++ course will equip you with the skills required to effectively develop games using SFML.
Publisher:

Sonar Systems
Developing games is a great way to refine and practice your coding skills. This free online C++ game programming course has been designed to arm you with the necessary skills and knowledge needed to develop games. This course teaches game development using Simple and Fast Multimedia Library (SFML) and includes setting up the game engine, creating the various game states, animating the game, and implementing sound effects.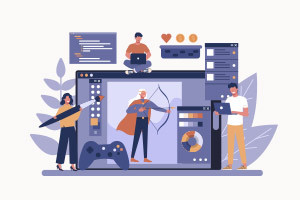 Duration

1.5-3 Hours

Accreditation

CPD
Description
Learn C++ for game development and use these skills to create a fun Flappy Bird Clone game. This free online course has been designed to equip game developers with amazing game developing skills using SFML. SFML is an acronym for Simple and Fast Multimedia Library and it is a cross-platform software development library designed to provide a simple interface to the various components of your PC, for easy game- and multimedia application development. This course begins with an introduction to SFML and the procedures to set up SFML on Windows (using Visual Studio code) and also on Mac (using Xcode). This part of the course covers setting up the game engine, state machine, input manager, asset manager, and implementing the game loop. The various game states are included here too which are the splash state, main menu state, implementing the game state, and the game over state.
The following part C++ game development course will discuss the many game scenes required as well as creating the pipe class, bird class and automatic spawning and deleting of the various pipes. Animating is the next subject which explores how to make the bird rotate, fly, and collide with obstacles as well as the implementation of the game scoring system. Other than actual gameplay, there are many screens that require development and these screens are the game over screen, scores that display at the game over screen, medals and much more. You will then be shown how to add sound effects to your game as the final part of your game development project.
Game development is the process of modeling and designing video games for entertainment purposes and usually involves a series of stages which should be studied and mastered carefully. This free online game development course has been carefully crafted to show you how to develop games using SFML C++ on the Windows and Mac platforms and will be a great boost for your career as a game developer. You could also enrol in this course if you would love to try your hand at game development coding as a hobby or side project.
Start Course Now