Pharmacy Assistant
Learn the strategies to give skilled and efficient pharmaceutical care with this free online pharmacy assistant course.
Publisher:

CourseFlix
Pharmacy assistants play a vital role in patient's lives. No matter how efficient a doctor's recommended treatment may be, it will not be useful if the medications are not given in the correct dosages with clear instructions and advice. In this course, we will learn the various benefits and responsibilities of this rewarding career choice. We will also discover how pharmacy initiatives continually help to improve communities around the world.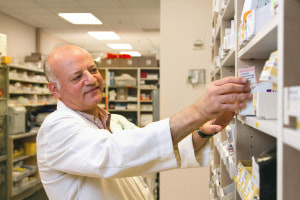 Duration

5-6 Hours

Accreditation

CPD
Description
During the day at work, you start to feel that something isn't quite right. You feel a slight headache coming on as well as a somewhat sore throat. You begin to ask yourself, "Is this because I got wet in the rain early this morning?". Not wanting to miss half a day's work, you opt for a hot tea and put on a warmer sweater. As the day continues to wear on, your symptoms only appear to get worse, and you are left with no choice but to go home early. Before you get home, you decide to stop by your doctor's office to get checked out and then to your local pharmacy to buy the prescribed medicine to help alleviate the symptoms. These kinds of scenarios are common fixtures of our busy lives. However, a key point to remember is that a treatment recommended by a doctor will not be effective if the medications are not given to the patient, along with clear instructions and advice from the pharmacist. Pharmacy assistants play an active role in the dispensing of drugs. In this course, you will learn how pharmacy initiatives contribute to improving healthcare in communities, and you will understand how to use pharmaceutical resources efficiently.
Working in the pharmacy field can be a unique and challenging profession, but it can also be a very rewarding career choice. Did you know that the roots of pharmacy or the treatment of disease can be traced back nearly 4,000 years! In this course, we begin by studying the brief history and importance of the Pharmacy Sector throughout history, as well as its current impact in today's modern world. Pharmaceutical care involves taking extreme care and vigilance while dispensing any type of medication. This makes it vital for each team member to be well aware of specific medications, dosages, and allergies a patient might require or have. We will take a closer look at the different responsibilities these workers have that usually depend on their work area. This course will also teach you sets of rules, regulations, and principles of code that must be followed as a pharmacy worker. These have been designed to help promote your work and help you to make the right decisions.
Perhaps the next most critical and important skill set required for a successful career in the pharmacy sector is communication. It is very important to develop valued and mutually respectful relations between a pharmacy assistant and a patient. We will take a deep dive into analysing positive and negative examples of typical conversations at the pharmacy counter. Then we will consider desirable communication traits and a guide on how to give effective patient counselling. Toward the end of the course, we will study a list of standard prescription abbreviations and proper dispensation practices. Understanding these details are fundamental to a patient's health and failure to convey the correct instructions or dosage can result in severely negative results. This course also includes activities you can download to write down thoughts and ideas you have on how you can become an efficient pharmacy assistant. Anyone with an interest in learning about becoming a pharmacy assistant will gain a lot from this course. Studying this course will help first-time assistants, students and anyone thinking about entering the pharmaceutical field. It provides techniques and strategies behind developing good communication skills, practising good dispensing practices and giving efficient patient counselling. Pharmacists, pharmacy supervisors, and more can benefit from learning about the fundamental role of a pharmacy assistant.
Start Course Now