Online Piano Lessons for Beginners
Master essential musical elements and learn to play the piano easily with this free online music course.
Publisher:

Costas Christodoulou
Immerse yourself into the world of music with this free online course. Learn the vital music theory needed to play melodies and many different techniques for accompaniment and improvisation. We'll be using a music keyboard that can be connected to a computer, and in this course, you will be able to use a free software called Cakewalk by BandLab. This practical software will help you develop your musical ability in an interactive and engaging way.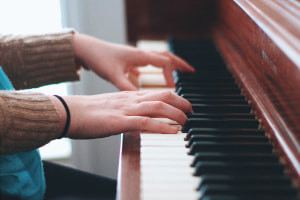 Duration

5-6 Hours

Accreditation

CPD
Description
Online Piano Lessons for Beginners is a free online course that immerses you into the world of music from the very beginning. You will learn how to recognize the notes on the keyboard and play music from the start. We will describe many different techniques and ways of playing music on the piano, and you will be able to discover that this process can be very simple as well as enjoyable. This course also includes the use of a free software program called Cakewalk, which will provide you with an orchestra that will play music alongside you. We will also download some free plugins that will give us real instrument sounds for our projects. In this first approach of playing the piano, we will learn to feel comfortable with our hands and fingers over the musical keys, and we'll teach our 10 fingers to work together to produce beautiful melodies.
The theory of music is equally important. Music has letters, words and phrases, and a specific way of being written. In this course, we will discover everything we need to understand the way that music works. These elements include but are not limited to notes, staves, music notation, and many others. We will also introduce a powerful musical tool called "The Circle of the Fifths", which will show you information about the musical scales. Music is a language, and just like every other language, it also has pretty simple logic, and this will be considered in the course. Elements of improvisation are like the rules that we can use to make a lovely melody. Techniques for accompaniment can be used in various ways that help musicians collaborate with each other. You will learn methods to play with a friend or even accompany with your voice.
We will consider the root knowledge of the piano. This free online course will familiarise you with the piano keys. We will make a practical first approach to playing the piano by using easy-to-understand videos. You will also consider the appropriate theoretical knowledge to understand how the piano is played. Discover how to improvise on the piano by using the various techniques learned throughout this course. Anyone with an interest in entering the music field will benefit from studying this course. Feel comfortable reading the musical staff and the notes by advancing to the next step of your piano learning. Your instructor in this course has been in the music industry for more than 30 years. He has also performed, composed and written books about playing the piano. This course features more than 50 easy to follow videos. Having confidence in knowing how to play the piano keys and having knowledge of the music theory will make it easier to master beautiful symphonies and accompany anyone that also plays an instrument. Students, teachers and more can benefit from taking this course. Enroll now!
Start Course Now