Nursing Studies - Communication and Transcultural Factors
Learn more about nursing procedures and practices.
Publisher:

MEDCoE
Learn more about nursing procedures and practices.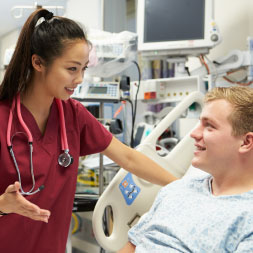 Duration

1.5-3 Hours

Accreditation

CPD
Description
Nursing is a very important profession within the health care sector. The nursing profession focuses on the quality care of sick individuals within hospital settings and also on the care of individuals and families within society. This nursing course provides the learner with an overview of the skills, techniques, and approaches required to effectively treat a diverse range of patients. Key elements of the course introduce the learner to aspects and concepts of health, communication techniques and methods used to establish a patient's basic needs to ensure the necessary care is provided. You will learn about the patient's reaction to hospitalisation and illness together with the emotional response. You will review the stages of illness along with therapeutic communication techniques, interview techniques and communication approaches to apply when treating patients who are blind, deaf and speakers of other languages. You will also learn about transcultural nursing and how it addresses the issues encountered when providing medical care to diverse cultural groups, or those from cultures different from the nursing professionals. The course material also creates an awareness of the impact and associated challenges that can exist when providing patient care in transcultural settings. This nursing course will be of great interest to health care workers who would like to learn more about nursing skills, and to any learner who is interested in pursuing nursing as a career.
Start Course Now
h