NSDC Course: Machining Technician - Lathe
Learn about the safe and effective use of CNC machine tools and the skills to become an efficient machine operator.
Teaching & Academics
Free Course
This free online NSDC machining course teaches about the safe and efficient handling of the lathe tool. The demand for CNC machine tools and computer-controlled operators has increased dramatically in the past decade, creating a plethora of new opportunities for machining technicians. With this course, you will learn the safe and efficient handling of CNC machine tools so you can become a highly-qualified lathe machine operator.
Take this certificate on your own.
Start now and learn at your own pace.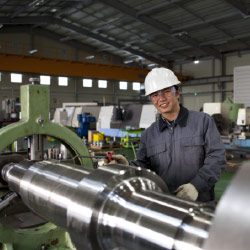 Description
This course begins with an introduction to metrology which is the study of measurement. You will learn that a measurement unit shows the size or amount of something and in order to complete your job correctly, you need to know all about the measurements such as width, length, height, weight and time. You will study different measurement systems and terms as well as how to convert values between the systems.

You will then study the difference between 2D and 3D geometrical shapes. This course will also discuss the basic properties of materials including hardness, ductility, toughness. It will teach you the different operations with the lathe machine and the importance of CNC and the safety and maintenance procedures associated with it. In addition, you will learn how to behave accordingly in the workplace, and so much more!

An understanding of the different functions of a lathe machine, proper communication, and a confident behavior in the workplace are important requirements for a lathe machine operator. Upon the completion of this course, you will learn all these and gain a greater knowledge of the measurement terms and systems, engineering drawings of simple parts, the use of different measuring instruments, and a whole lot more. Sign up for this course and start learning today!
Start Course Now
Need Some Help?
What are the best free online lathe machine courses?
How much does an online lathe machine course cost?