Manufacturing Technologies
Enhance your knowledge on the uses and applications of modern manufacturing technologies with this free online course.
Publisher:

NPTEL
This free online course on Manufacturing Technologies will provide you with a satisfactory understanding of the master tools that you need to excel in the manufacturing industry. You will expand your knowledge, refine your capabilities and gain adequate comprehension of modern and emerging manufacturing technologies that you need to achieve your career and industry qualifications.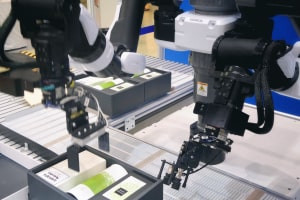 Duration

3-4 Hours

Accreditation

CPD
Description
This free online course on Manufacturing Technologies begins with an introduction to the concept of Agile Manufacturing (AM). You will examine the key elements and importance of Agile Manufacturing as well as the steps and procedures involved in its implementation. The advantages and disadvantages of Agile Manufacturing in relation to the manufacturing process will also be discussed. Also, You will briefly examine some core emerging manufacturing technologies such as the Internet of things, Cloud Manufacturing, Blockchain Technology and more. You will learn how to respond quickly and efficiently to the dynamic nature of market demands using these new technologies.
Next, you will learn about Additive Manufacturing (Also known as 3D Printing), which is a process of manufacturing that involves the use of 3D printers that employ computer-aided design (CAD) to create 3D products from a variety of materials, like molten plastic or powders. You will explore some pioneering examples of Additive Manufacturing productions such as the GE90 jet engine fuel nozzle from General Electric and the gas turbine burner head from Siemens. Also, you will learn how Metal Additive Manufacturing Supply Chains are configured, and the phases of processing involved in the Additive Manufacturing Process Flow Chart will be highlighted.
Finally, this course will discuss the features of the Manufacturing and Industrial Internet of Things (IIoT), reviewing its components, platforms, implementations, trends, and how it is impacting Industry 4.0. You will analyse the comparison between the Industrial Internet of Things (IIoT) and the consumer Internet of Things (IoT). You will also examine other aspects of Manufacturing Technologies such as Wearables, Digital Supply Network, Evolution of Supply Chain Management, Dimensions of Digital Network System, Smart Manufacturing, and more. This course is packed with lectures and video illustrations that will give you reliable and interesting information on the subjects discussed herein. So why wait? start this course today!
Start Course Now