Manufacturing Technologies
Get ahead of the pack with new manufacturing technologies and practices provided by this free online course.
Publisher:

NPTEL
This free online course teaches you how to use the tools that you need to excel in the manufacturing industry. We explain cutting-edge technologies that speed up the production of quality products to help you achieve your career goals as a manufacturer. The world has changed greatly since the Industrial Revolution and this course puts you ahead of the curve in time to profit from changes in technology and approach as they occur.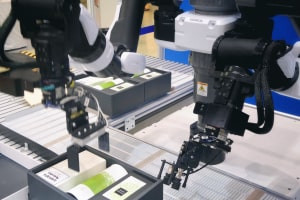 Duration

3-4 Hours

Accreditation

CPD
Description
This free online course introduces you to the concept of 'agile manufacturing' (AM). We break down the key elements and importance of AM and lay out the steps and procedures involved in its implementation while establishing their advantages and disadvantages in relation to the manufacturing process. The course then examines some core emerging manufacturing technologies, including the 'internet of things', cloud manufacturing, blockchain and more. We demonstrate how to use these new technologies to respond quickly and efficiently to dynamic market demands.
We then delve into additive manufacturing, which involves the use of 3D printers that employ computer-aided design (CAD) to create physical objects from a variety of materials, like plastic. We then study some pioneering examples of additive manufacturing production such as the GE90 jet engine fuel nozzle from General Electric and the gas turbine burner head from Siemens. The course shows you how metal additive manufacturing supply chains are configured and lays out the phases of processing in a flow chart.
The course discusses the idea of the 'industrial internet of things' (IIoT), reviewing its components, platforms, implementation, trends and impact on industry. We then compare it to its consumer counterpart. We then examine other aspects of modern manufacturing, including wearables, digital supply network, the evolution of supply chain management, dimensions of digital network system, 'smart' manufacturing and more. This course helps you master new manufacturing methods to enable you to take advantage of change as it occurs. Consumer demand grows each day so sign up to harness the power of emerging technologies that can help you meet that need.
Start Course Now