Kaizen Approach - Lean Methodology for Continuous Improvement
Discover the tools and methods to develop a Kaizen cultural change within companies with this free online kaizen course.
Publisher:

S. M. Waqas Imam
This free online Kaizen training course will teach you about how you can use lean methodology to encourage continuous improvement in your team. Organizations are now realizing the importance of Kaizen Approach activities like continuous improvement programs, and how they can be used with lean methodology. In this course, you will learn how to enact cultural change in organizations through Kaizen principles, philosophy, action plans, and events.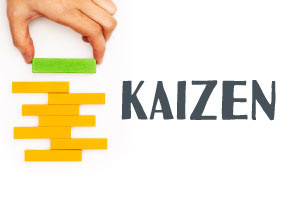 Duration

1.5-3 Hours

Accreditation

CPD
Description
Kaizen is a continuous improvement program. Following the success stories of Kaizen implementation in Japan, this methodology has spread worldwide and many companies greatly improved their performance by utilizing this approach. Kaizen has not developed into an internationally agreed standard yet, but the details about how to bring about a Kaizen cultural change in organizations and companies by different industry experts has been brought together in this free online course.
The course begins by covering the context of the Kaizen, its history, introduction, the literal meaning of the root term, important principles, philosophy etc. Then the course highlights the PDCA approach for Kaizen improvements. You will leanr about the major Kaizen concepts, such as the three Ms - Muri, Mura and Muda, the Kaizen event, the Kaizen cycle, major Kaizen Systems, Gemba Kaizen, Kaizen implementation program, management of Kaizen Events, Kaizen Stories and many other Kaizen principles.
Lastly, the course also clears the confusion among professionals related to continuous improvement versus continual improvement. For example you'll learn why ISO standards use the term continual improvement and Kaizen programs use continuous improvement. Monitoring of Kaizen improvement programs, such as Kaizen events are important, therefore, the responsibility of monitoring is also discussed. Start this course today and gain valuable skills that will help you implement cultural change in organizations through Kaizen principles, philosophy, action plans, events and stories.
Start Course Now