The 5S System - Lean Methodology on Workplace Optimization and Housekeeping
Discover Lean Methodology on Workplace Optimization and Housekeeping with this free online 5S training course.
Publisher:

S. M. Waqas Imam
This free online 5S certification training course teaches you about the application of lean methodology in workplace optimization and housekeeping. The 5S lean tool is based on five Japanese words beginning with the letter "S"—Sort, Set in Order, Shine, Standardize, and Sustain—which optimises workplaces for lean methodologies. You will study the history of the 5S, its importance in the workplace, the guideline for its initialization, and more!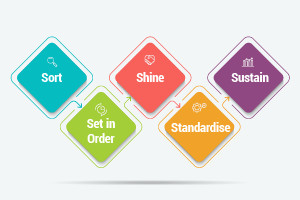 Duration

1.5-3 Hours

Accreditation

CPD
Description
The 5S System is a Japanese Lean Methodology that is used for organizing spaces so work can be performed efficiently, effectively, and safely. This free online course will explore how the 5S system can be used to help improve the organization and efficiency in many workplaces, such as manufacturing environments and offices.
The 5S System provides a methodology for organizing an optimum workplace based on the following five Japanese words:
"Seiri" (Sort)
"Seiton" (Set in Order)
"Seisō" (Shine)
"Seiketsu" (Standardization)
"Shitsuke" (Sustain)
The course begins by exploring the history of how the 5S System has evolved and similar housekeeping concepts used in various industries. The course then moves on to explain the importance and benefits of implementing a 5S initiative. You will also learn about the important preparation guidelines for implementing a 5S System, which includes the 5S project plan, training and other concerns that should be taken into consideration. So, start the course today and gain valuable skills in 5S lean methodology for workplace optimization.
Start Course Now