Learning Lean Six Sigma: White Belt
Learn the secret of increasing your organisation's efficiency and proficiency with Six Sigma in this free online course.
Publisher:

Robert Chapman
Organisations consistently face increasing expenses and expanding conflicts. This free Lean Six Sigma course teaches you the techniques to reduce conflicts, increase profits and decrease costs. You will learn the vital techniques that are increasingly important across a wide range of industries as companies are always looking for ways to improve their processes, create efficiencies and ensure consistent quality across their operations.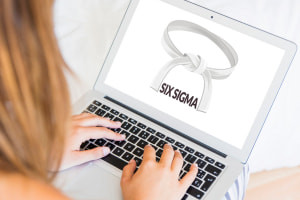 Duration

1.5-3 Hours

Accreditation

CPD
Description
Lean Six Sigma is a process-improvement methodology that accelerates processes, increases efficiency and reduces or eliminates variation. Competition for customers is growing globally, putting company profits at risk. Research shows that customer expectations are changing rapidly as the rate of information increases and the operating costs within companies are escalating. Now, more than ever, achieving process excellence is essential. Six Sigma White Belt training is an ideal beginner-level course for those looking to understand Six Sigma's basics. It works best for employees unfamiliar with Six Sigma who want to learn more about the methodology and how it can impact an organisation. A leader's ability to manage a complex environment is crucial to success. Is there any organisation in the world that would not want to optimise quality, productivity and costs?
Lean Six Sigma presents the principles, tools and techniques that enable optimal performance. You can use Six Sigma as a management program that provides tools that help manufacturers obtain efficient, streamlined production to coincide with high-quality products. This course will reveal how the well-regarded analytical tools of Six Sigma quality control can be successfully brought into the well-established models of 'Lean manufacturing', bringing efficient, streamlined production and high-quality product together. This course offers a thorough yet concise introduction to the essential fundamentals of Six Sigma, with solid case examples from several industrial settings, culminating in a comprehensive case study.
Anyone taking this course will find it immensely resourceful. It will bring about a clear understanding of how to implement Six Sigma statistical tools and how to do so within the bounds of the lean manufacturing scheme. It will show how Lean Six Sigma can help reinforce the notion of 'less is more' while at the same time preserving minimal error rates in final manufactured products. We'll explain necessary lean tools like value-stream mapping and quality improvement tools like Kaizen techniques within the context of Lean Six Sigma practices. Finally, we extend the case study to demonstrate how you can implement Six Sigma and Lean principles, reducing production times and costs and creating improved product quality. Get equipped with this widely sought-after knowledge by enrolling in this course today.
Start Course Now